Connecticut College News
Back to Current News
Former U.S. Surgeon General David Satcher to kick off 2-day symposium on race and health care
03/1/2010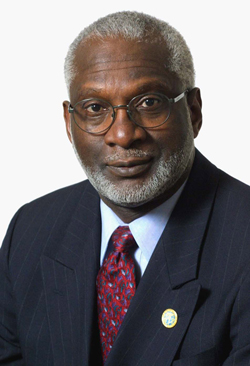 Former U.S. Surgeon General David Satcher
Former U.S. Surgeon General David Satcher will speak at Connecticut College March 4 as part of a two-day symposium examining the racial gap in health care. Sponsored by the college´s Center for the Comparative Study of Race and Ethnicity, the symposium, "The Health Gap: Inequality in U.S. Health Care," will bring a variety of academic and medical experts to campus March 4-5 for lectures and discussions about the relationship between history, health care and human rights. Satcher, who served as surgeon general from 1998 to 2002, will give a keynote address, "Racial and Ethnic Inequalities in Health Care in America," at 6:30 p.m. in the college´s Harkness Chapel. Satcher is the director of the Satcher Health Leadership Institute, established in 2006 to develop a diverse group of public health leaders, foster and support leadership strategies and influence policies toward the reduction and ultimate elimination of disparities in health. "In light of the current national debate about reform, it is important that we educate ourselves about health disparities, the challenges of urban health care delivery and how cultural differences affect health care," David Canton, associate professor of history and director of the college´s Center for the Comparative Study of Race and Ethnicity, said. "We are very fortunate to have Dr. Satcher and a number of other prominent experts to help us shape this important discussion." All events are free and open to the public. In addition to the keynote lecture, Vanessa Northington Gamble, university professor of medical humanities at George Washington University, will give a talk, "African Americans and the Origins of the Campaign to Eliminate Racial Disparities in Health and Health Care," March 5 at 11:50 a.m. in Blaustein Humanities Center Room 210. A panel discussion featuring James Downs, assistant professor of history at Connecticut College; Chris O´Connor, CEO of the Hospital of St. Raphael in New Haven; Merrill Singer, medical anthropologist at the University of Connecticut; and Vijay Sikand, a doctor of internal medicine from New London, is March 5 at 2:30 p.m. in the Ernst Common Room, Blaustein Humanities Center.
For media inquiries, please contact:
Amy Martin (860) 439-2526, amy.martin@conncoll.edu
You might also like...