Connecticut College News
Back to Current News
Freshman Science Leaders discover microbes, molecules and more
02/26/2010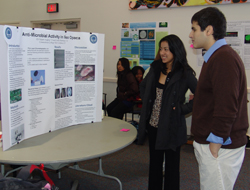 Members of the college´s newest class of Science Leaders presented research from their freshman seminar course at a recent poster session.
Jennifer Cunningham ´13 isn´t shy about it - she freely admits she´s a big fan of bacteria. "I love playing with them, and it is so cool to see how they grow and multiply," Cunningham said at a recent poster session where she and Parinda Darden ´13 presented research they conducted to test the antibacterial properties of witch-hazel, a flowering shrub they found growing in the college´s Arboretum. "We found that the witch-hazel extract killed Staphylococcus epidermidis, a skin flora that can cause staph infections," Cunningham said. Cunningham and Darden are members of the college´s newest class of Science Leaders, students selected to participate in the college´s research-intensive science mentorship program. The program, which is designed to increase the number of women and minority students pursuing degrees in the sciences, fosters a passion for science through applied research and close association with faculty and other science students. Students enrolled in the program are prepared for careers in the sciences with close faculty mentoring, hands-on research and internship opportunities. Their research was an assignment for "Microbes, Molecules and More," a freshman seminar course for all 15 new Science Leaders. "This course helps familiarize the students with the process of conducting college-level science research," said Chemistry Professor Colleen Kaczmarek, who team-taught the course with Biology Professor Anne Bernhard. "With this research project, students had to test a hypothesis from beginning to end by collecting samples and using chemical extraction, chromatography and microbiology." To collect their samples, students went on an ethnobotany walk in the college´s Arboretum with Manuel Lizzaralde, associate professor of ethnobotany, who pointed out various plants that are believed to have medicinal qualities. After the students researched their plants, they performed a chemical extraction with their leaf samples. Using chromatography, a laboratory technique to separate compounds, the students determined the number of compounds in their extracts, and then tested them in the microbiology lab for antibacterial properties. Cheney Larock ´13 collected Mountain Laurel, a plant nicknamed "lamb kill." "Mountain Laurel is extremely beautiful, which is why it caught my eye, but it´s also poisonous," Larock said. Native Americans used the plant as a wash to prevent skin diseases, so Larock wasn´t surprised to find the extract was effective against Staphylococcus epidermidis. "It´s awesome that Native Americans knew this plant had these properties," Larock said. "This is knowledge that we´ve lost overtime, and we are using science to confirm what they knew long ago." Ivan Leroux ´13, Ashley Glorioso ´13 and Erika Tang ´13 tested Plantago Major, a plant also used heavily by Native Americans. "It was called ´life medicine´ by Native Americans and was used to treat lots of different ailments," Tang said. The group tested a Plantago Major extract on seven different bacteria, but their tests showed it was only effective against E. coli. "We think it only worked on E. coli because we had a very small sample and had to dilute it with the solvent every time we tested it," Leroux said. Milan Saunders ´13 correctly hypothesized that her sample of Black Hawk would not have antibacterial properties, since it was used by members of the Cherokee tribe to treat menstrual pain. Still, she enjoyed the project and is excited about future research opportunities. "I´m interested in studying biology, and maybe art," Saunders, a native of Chicago, said. "I want to be a veterinarian."
For media inquiries, please contact:
Amy Martin (860) 439-2526, amy.martin@conncoll.edu
You might also like...