Connecticut College News
Back to Current News
Get an inside look at residential life
04/28/2010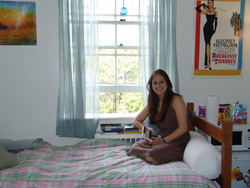 Devon Butler ´10 made her room her own with curtains, posters and colorful bedding. View the slideshow to see how other students personalize their rooms.
Olivia Grossman ´12 and her father built a folding bed to give her more space in her room at Connecticut College. Patrick Cremens ´11 positioned his bed to look out at the Jean C. Tempel Green, and Dani Murphy ´10, a housefellow, added seating and made the fireplace the focal point. These are just a few examples of the many ways students create their own space inside the College´s 23 residence halls. To see more examples, check out a slideshow of student rooms. More than 98 percent of Connecticut College students live on campus. From the newly renovated "Plex" in North Campus to the classic granite buildings of central and south campus, each residence hall - called a "house" - has its own personality. Several have special themes, such as Knowlton Language House , 360/Earth House, the substance-free Blackstone and the "quiet" house, Burdick. Each residence hall is home to students from all four classes, creating an open and welcoming environment.
For media inquiries, please contact:
Amy Martin (860) 439-2526, amy.martin@conncoll.edu
You might also like...