Connecticut College News
Back to Current News
Higdon urges alumni to spread the word
06/11/2010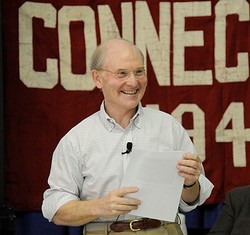 Consider these numbers:

* Applications for admission have risen 24 percent in the past four years.

* This year the College selected only 32 percent of students who applied, compared to 38 percent in 2006.

* The student body is becoming more diverse, with a 41 percent increase in the number of enrolled students of color over the past four years.

The Campaign for Connecticut College has created a strong foundation to raise the level of academic challenge, improve the student experience and enhance the beauty and function of the campus, President Higdon told alumni during his annual State of the College presentation Reunion Weekend.

You can see the impact in the admission stats, he said.

"When you talk about impact, when you talk about succes, look at these numbers," he said. "We're attracting the very best students."

To date the Campaign has raised $136 million. That total includes $18 million raised during the past four years through the Annual Fund -- through gifts of all sizes.

"We would not be in the position we are today without the Campaign -- without your suport," Higdon said. "Thank you."

With three years remaining, the goal is to raise $200 million.

The support has touched every area of the campus and the academic program, Higdon said. Gifts have endowed professorships, increased spending on financial aid, built a new fitness center, renovated two residence halls from top to bottom, refurbished 31 common rooms and increased support for faculty-student research.

Higdon said the College has raised its public profile and is engaging thousands of prospective students -- and alumni -- in new ways. For the second year in a row, attendance at alumni events is setting a record.

Higdon urged alumni to spread the word to their classmates. "Each of you knows a classmate who could not come here," he said. "Tell them about what's going on."
For media inquiries, please contact:
Amy Martin (860) 439-2526, amy.martin@conncoll.edu
You might also like...