Connecticut College News
Back to Current News
Junior Janet Tso works to end human trafficking
12/10/2010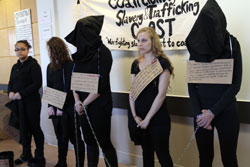 CoAST members perform "Operation Silence."
Janet Tso '12 recently performed in front of a lunchtime crowd at Harris Refectory and said it was "the scariest thing I've ever done in my life." One would assume addressing the United Nations at the age of 16 would have been more frightening, but Tso says that experience paled in comparison to performing "Operation Silence," the activism demonstration she created to raise awareness of global human trafficking.
"But I felt in my heart it was needed," she said of overcoming her fears. "If I just pass out fliers, no one is going to listen."
Tso has been an activist since the age of 13, and has been a very successful proponent of her cause, speaking at various conferences, leading youth summits and calmly representing an international student group before the U.N. Her work has taken her from Yale University in New Haven to an international education conference in Dakar, Senegal, and if her enthusiasm is any clue, she'll rack up a lot of airline miles during her life.
"I've already started my career," she said. "My realistic career would be as an immigration attorney, but I'd rather dream big and run my own nonprofit. After taking Professor Christopher Pallas's course, Global Civil Societies, I've learned the importance of nonprofit works and the difference an individual can make by speaking up."
In the fall of 2010, she started a campus club called CoAST, the COalition Against Slavery and Trafficking. Members of CoAST performed "Operation Silence" with her, donning black hoods, shackles and signs around their necks telling the stories of actual victims of trafficking and slavery. A bucket at each student's feet represented the amount of money it would require to free a modern-day slave. One at a time, the students removed their hoods and told their slave's story.
Tso was last to speak, telling the gruesome story of a New London girl held most of her life in sex slavery by her own family. Tso met the girl through her internship with the Barnaba Institute, an anti-trafficking advocacy organization, and through their outreach efforts the girl is no longer being held against her will.
"She's finally happy and free," said Tso.
Tso said she first came up with the idea of "Operation Silence" six years ago, and she decided to act when a recent student newspaper article urged the campus to take a stand on social justice issues.
"I knew I wanted to prove that CoAST had the ability to make a mark," Tso said. "Passive campaigns are ignored and aren't as effective; but five individuals, dressed in black with hoods over their heads, will grab more attention."
Tso is self-designing a major in social activism, and her extracurricular efforts dovetail perfectly with that plan as well as her work as a scholar in the Holleran Center for Community Service and Public Policy.
"Holleran Center students study in depth a pressing community issue throughout their certificate program," explained Tracee Reiser, associate dean of community learning, associate director of the Holleran Center and director of the Office of Volunteers for Community Service. "The junior seminar includes community learning work and we encourage the scholars to create a culminating activity or product that demonstrates knowledge acquired during the semester and contributes to addressing the community issue. Janet's work with CoAST and their 'Operation Silence' performance raise awareness about slavery and trafficking and sparks actions to end these atrocities."
For media inquiries, please contact:
Deborah MacDonnell (860) 439-2504, dmacdonn@conncoll.edu
You might also like...