Connecticut College News
Back to Current News
More than 5,250 applications have been received to date
02/11/2010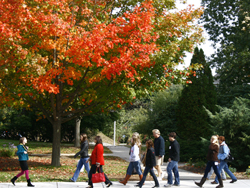 Connecticut College has received a record number of applications for the Class of 2014, with 5,268 received as of Feb. 10. The previous record, set three years ago, was 4,742.

The surge – an 11 percent increase over last year – shows the College's strength, particularly in a challenging economic and demographic environment, President Leo I. Higdon Jr. said.

"Students want to come to Connecticut College for a top liberal arts education that will prepare them for a full life and an enriching career in whatever field they choose," Higdon said. "We are attracting more and more students as we continue to improve our campus and invest in the student experience."

In the last several years the College has:

-Focused recruiting with new emphasis on specific geographic regions and demographic groups;

-Expanded communications, emphasizing academic excellence, institutional momentum, value and financial aid;

-Made investments in campus facilities, including the new fitness center, that enhance the student experience and the campus visit experience; and

-Implemented a new standardized-test-optional policy that removes barriers to applications for many underserved students.

Martha Merrill '84, dean of admission and financial aid, said students are getting the message about Connecticut College.

"We hear repeatedly from prospective students and their parents that they are awed by the beauty of the campus and impressed by the academic program and the wide range of opportunities for students," she said.

This year the College also is seeing a record number of applications from student of color from the United States (up 43 percent from last year) and students from foreign schools (up 39 percent from last year).

In addition, a record number of students applied Early Decision (up 24 percent from last year) – showing that more are seeing Connecticut College as their first choice, Merrill said.
-Amy Martin
For media inquiries, please contact:
Amy Martin (860) 439-2526, amy.martin@conncoll.edu
You might also like...