Connecticut College News
Back to Current News
New cafe planned for Harkness Dining Room
10/15/2010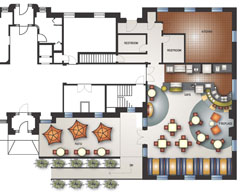 Above is one proposed floor plan for the new Harkness café.
The plans for a new café in a historic residence hall on the south side of campus have just been announced, but Lindy Nash '11 can already picture it.
"I envision students and their families grabbing a coffee, and then wandering outside to watch a soccer game. I can picture study groups happening by the fireplace, sipping hot chocolate in the winter. I see students craving a Panini after the main dining halls have closed and running over to Harkness," she said.
Earlier this month, President Higdon announced a plan to create a 1,500-square-foot café and late night gathering place for students in the Harkness House dining room.
"As we approach the College's Centennial, it is my hope that this new space will quickly become a popular gathering place for students and the entire campus community to enjoy well into the future," he said in an e-mail announcement.
The Harkness House dining room, which was used as a dining hall until 2005, will be completely renovated with new kitchen facilities, a variety of seating choices, audio and video equipment and space for live performances and other entertainment. The $500,000 project, which includes an endowment to maintain the facility, is a gift to the College from the parents of an alumna.
The new gathering space is part of a larger student-driven initiative to improve the social spaces on campus. Building on the success of Coffee Grounds, a student-run organic fair-trade coffee house on the north side of campus, and the centrally-located Oasis Snack Shop, students suggested a neighborhood-style café near Tempel Green.
"On any night of the week, you can find groups of students talking, studying or just relaxing in central or north campus," said Nash, who co-chairs a student committee examining student social spaces. "Now, south campus will have its own space."
The café, which is scheduled to open in Fall 2011, will be managed by an outside vendor and will offer specialty coffees and other non-alcoholic beverages, light meals and freshly baked goods in a casual, relaxed setting. The space is being designed by an architectural firm from Arlington, Mass., and will be renovated during the summer of 2011.
For media inquiries, please contact:
Amy Martin (860) 439-2526, amy.martin@conncoll.edu
You might also like...