Connecticut College News
Back to Current News
Photos capture cultural experience of study away in Oaxaca, Mexico
12/30/2010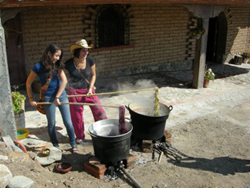 Ancient cities, pirate radio stations and Zapatista community centers provided the perfect backdrop for a semester-long study in Oaxaca, Mexico, for 12 students and two professors this fall. History Professor Leo Garofalo documented the experience with a series of photographs.
Students explored themes of immigration, indigenous rights and movements and socially engaged education with Garofalo and Education Professor Michael James. The group studied at the Cultural Institute of Oaxaca as part of the College's study away, teach away (SATA) program, which allows 10 to 20 students to study with Connecticut College professors in a foreign country, including developing nations.
Oaxaca, a significant cultural and political center with the largest indigenous population in Mexico, provided students and professors with a unique opportunity to enhance their knowledge and appreciation of political, economic and social systems significantly different from their own.
"We are constantly discussing, thinking, theorizing, questioning, etc.," Katherine Shabb '12 said in late November. "The experience has forced us to question everything we have known - our lifestyles, capitalism, education, economic systems, individualism. I will not go home the same person I was four months ago."
For media inquiries, please contact:
Amy Martin (860) 439-2526, amy.martin@conncoll.edu
You might also like...