Connecticut College News
Back to Current News
Professor wins national psychology award
10/7/2010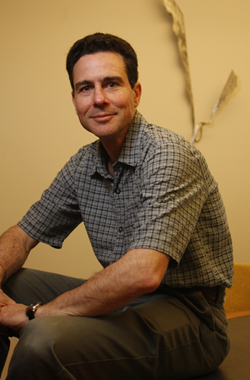 Psychology Professor Jefferson Singer has been selected to receive the 2010 Henry A. Murray Award from the Society for Personality and Social Psychology of the American Psychology Association. The award, established in 1978, is presented annually to recognize an individual who has made distinguished contributions to the study of lives. It is given to encourage those working in the demanding and difficult tradition pioneered by the late Harvard Psychology Professor Henry Murray.
"Winning this award puts Professor Singer in the company of true giants in the field of the study of lives," Chair of the Psychology Department Ann Devlin said.
Singer, an expert in personality theory and autobiographical memory, is the author of four books, including "Memories That Matter" and "The Remembered Self: Emotion and Memory in Personality." He has also authored more than 80 articles, chapters and book reviews in the fields of personality, clinical psychology and autobiographical memory.
In 2003, Singer was awarded a Fulbright Distinguished Scholar Award to travel to the United Kingdom to study the most personal and emotionally significant memories of individuals' lives, a type of memory that he calls "self-defining."
"These memories are vivid, emotional and reflective of important conflicts or enduring themes in individuals' lives," Singer said.
For Singer, winning an award named after one of the major figures credited with developing personality psychology holds special meaning. "Henry Murray really created a foundation for personality study and the type of research that I do," Singer said. "I teach my students a very famous test he developed based on picture interpretation called the T.A.T."
As the Murray Award winner, Singer will receive $1,000 and will give an address at the annual meeting of the American Psychological Association in Washington, D.C.
For media inquiries, please contact:
Deborah MacDonnell (860) 439-2504, dmacdonn@conncoll.edu
You might also like...