Connecticut College News
Back to Current News
RecycleMania hits Connecticut College
02/12/2010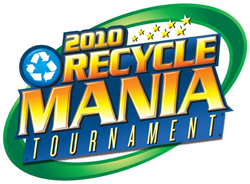 Connecticut College is once again going head-to-head with colleges and universities in RecycleMania, a recycling competition that promotes waste reduction. Connecticut College is a major contender in the competition, which runs from Feb. 1 to March 27.
This is the College's fifth year participating in the RecycleMania challenge, which this year includes 605 colleges and universities. Last year, Connecticut College finished 27th out of the 510 colleges and universities that participated and first among the New England Small College Athletic Conference (NESCAC).
"Other institutions are looking to Connecticut College as an example," Amy Cabaniss, campus environmental coordinator, said. "In fact, the College has been asked to mentor other colleges and universities entering the race."
The goal of RecycleMania is to reduce campus waste disposal and increase campus recycling. Connecticut College faculty, staff and students are working toward that goal by cutting down on waste production - printing on both sides of paper and using reusable containers instead of disposables, for example - and recycling paper, cardboard, aluminum, steel, glass and plastics Nos. 1 and 2.
"Connecticut College has a recycling culture that is enhanced during RecycleMania," Cabaniss said. "We started spreading the word about the importance of recycling even earlier this year to make sure we remain a top contender in the competition."
About RecycleMania
The RecycleMania competition is a trademarked program of the RecycleMania Steering Committee in coordination with the College and University Recycling Council (CURC). Program Management for RecycleMania is provided by Keep America Beautiful in coordination with the U.S. Environmental Protection Agency's WasteWise program. RecycleMania is made possible through the sponsorship support of The Coca Cola Company, American Forest & Paper Association and Keep America Beautiful.
-Caroline Gransee '09
For media inquiries, please contact:
Amy Martin (860) 439-2526, amy.martin@conncoll.edu
You might also like...