Connecticut College News
Back to Current News
Students could change the future with summer science research
07/22/2010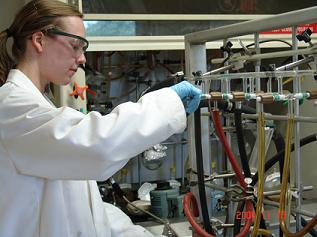 Taryn Campbell ´12 works in a lab, synthesizing compounds.
Each day Taryn Campbell ´12 is working in a Connecticut College lab this summer, synthesizing compounds alongside her peers and Chemistry Professor Timo Ovaska. These manmade compounds have anti-human immunodeficiency virus (HIV) properties, which may be useful for developing a drug to help cure the virus.
"The compound we are trying to make occurs naturally in an inconvenient place, making it difficult and expensive to extract," Campbell said. "If our proposed synthesis works, then the compound could be mass-produced in a lab."
Campbell, a dance and chemistry major, is one of 25 students taking part in the Keck Undergraduate Science Program, which encourages students to undertake comprehensive research projects over a 14-month period. She and her peers also receive grants from the W.M. Keck Foundation and the Marion Lowell Jenkins ´25 Science Scholarship Fund to support their on-campus summer research with professors. But the work of Campbell and her co-researchers is just one of the many projects students are carrying out this summer.
Samuel Alvarez ´12, a chemistry major, is conducting research with Professor of Chemistry Marc Zimmer and six student peers. Together, they are studying bioluminescence, the chemical reaction that makes organisms glow. "The students are using computers to examine how a fluorescent protein called killerred kills cells around it, which may be used as an anti-cancer agent in the future," Zimmer said. "They are also doing a database analysis of fluorescent proteins to understand how they work and what their function is."
While there are approximately 35 science students working in Connecticut College labs this summer, many of their fellow students, including Amy Smith ´12, are researching at other organizations and institutions around the country. Although Smith appreciates the chance to conduct research at a large university, she says it has helped her gain a new perspective on the opportunities at Connecticut College.
"Conducting research at a large university for the summer has made me appreciate the intimate setting of a liberal arts college and the benefits of being a science major at a small school," Smith said. "Although some people only think of the humanities when they hear the words ´liberal arts,´ the research opportunities are exceptional at Connecticut College, and the chemistry program is outstanding."
By Kelly Parlin ´12
For media inquiries, please contact:
Amy Martin (860) 439-2526, amy.martin@conncoll.edu
You might also like...