Connecticut College News
Back to Current News
Students give back to the community
06/10/2010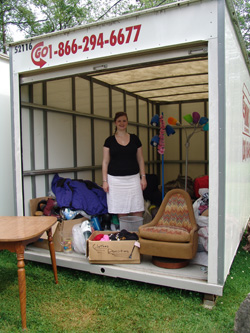 When Connecticut College students move out of their residence halls for the summer, they leave a lot behind. In fact, some leave big-ticket items, such as sofas, chairs, lamps, coffee tables, printers and more.
This year, members of the Environmental Model Committee worked with residential housing staff to give students an opportunity to donate these gently used items to local community organizations through a "Spring Give ´n´ Go."
Spring Give ´n´ Go not only benefits local organizations like Big Brothers Big Sisters of Southeastern Connecticut and the Women´s Center of Southeastern Connecticut, it also re-directs quality items away from dumpsters and into people´s homes.
"The event had a two-pronged goal," said residential area coordinator Colleen Haggarty, who oversaw the event. "Our students can feel good about both goals - giving back to the local community and reducing unnecessary waste."
Haggarty headed up the initiative, with staff and students pitching in. Their efforts filled four 16-foot storage units.
The group also partnered with employees from Target in Waterford, Conn. and United Way of Southeastern Connecticut, an organization that helps serve 28 local non-profits. The employees helped organize and disperse the goods.
"These donations will help local agencies with their bottom line," Stephanie Brown, United Way campaign specialist, said of the event´s impact. "They will make their every dollar go further and help them do more."
For media inquiries, please contact:
Amy Martin (860) 439-2526, amy.martin@conncoll.edu
You might also like...