Connecticut College News
Back to Current News
Students have more sustainability ideas
11/15/2010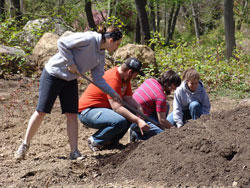 Students tend to the College's organic garden.
Connecticut College has earned a B+ from the newly released 2011 College Sustainability Report Cardby the Sustainable Endowments Institute, which conducts an independent evaluation of sustainability in campus operations and endowment practices.

The grade is an improvement for the College, which earned a B on the 2010 report card.

Amy Cabaniss, Connecticut College's Campus Environmental Coordinator, attributes the improvement to a variety of factors, including an enhanced commitment to sustainability from the entire College community.

"The change appears to be attributable to our progress on green building, with the College's commitment to LEED standards," she said. "Transportation has also improved with Zipcars, enhanced shuttle service, and a student-run bike program."

In the spring of 2010, Connecticut College President Leo I Higdon Jr. established a Sustainability Steering Committee to help the College develop and implement a long-term comprehensive sustainability strategic plan. In addition, the College organized a sustainability teach-in in February.

Also last spring, students proposed a ban on freshman cars on campus, a measure that will begin with the Class of 2015.

The College earned an A in the "student involvement" category on the report card, one of nine equally weighted categories that determine the final grade.

"Connecticut College students have a long history of environmental activism, driving sustainability initiatives on campus and in the community," Cabaniss said.

Recently, members of several environment-related student clubs and organizations, including Forest Justice, Oceana, the Renewable Energy Club, House Environmental Representatives and the Student Government Association, established the Environmental Leaders Coalition to coordinate efforts and enhance communications.

The College also earned A's in the "climate and energy" and "investment priorities" categories.

The student newspaper, The College Voice, welcomed the news and outlined ideas for other sustainability steps. Ian Phillips '11, SGA's Chair of Environmental Affairs, said he'd like more composting and less consumption of meat in the dining halls.

Lily Fayerweather '13, an Environmental Studies major and House Environmental Rep, wants opportunities to get more students thinking about environmental issues.

The College Voice's coverage.
For media inquiries, please contact:
Deborah MacDonnell (860) 439-2504, dmacdonn@conncoll.edu
You might also like...