Connecticut College News
Back to Current News
Two students help Haiti's youngest generation
12/16/2010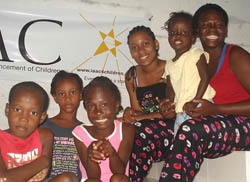 Burrell, right, and Beaubrun, third from right, helped care for children who were orphaned in the January earthquake and taught English to children and adults in Les Cayes.
When Penney Jade Beaubrun '11 landed in Port-au-Prince, Haiti, on June 16, the sight took her breath away. "That little house I used to see there is not there anymore," she said of her view from the airport. "It was a whole lot of tents. It was shocking. It was breathtaking. And that was almost half a year after the quake."
Beaubrun had returned to her hometown for the first time since the January earthquake that killed more than almost 230,00 people and left more than 1 million homeless, including her father. Beaubrun and her mother and sisters moved to Brooklyn, N.Y., when she was 15; her father, the assistant director of the Ministry of Public Health, stayed behind. Now he's living in a tent in their neighbor's yard.
"It's just weird because everyone is in a tent," Beaubrun said this fall. "Even doctors, even senators are living in tents. It's a new way of living. So you just need to accept it, but it was horrible. It was a relief going to IAAC."
IAAC - the International Alliance for the Advancement of Children - is a nonprofit that runs an orphanage and nutrition center in Les Cayes, Haiti, about four hours west of Port-au-Prince. For eight weeks this summer, Beaubrun and her friend Christina Burrell '11 completed internships funded by Connecticut College at the IAAC, teaching English and helping to care for the nine children taken in by the organization after they were orphaned in the quake. View a slide show from Beaubrun and Burrell's internship.
"The first thing I thought about, when we got to the orphanage, was the (College's) Children's Program, because the children were so young," said Burrell, who is majoring in psychology and human development. "We sat on the ground and played with the children. If they were too scared, we'd let them walk away and they'd come back in their own time."
Though several of the children at the orphanage had suffered severe trauma - one toddler had been found next to the bodies of her mother and grandmother; another child had been given up to the IAAC because her mother had been left destitute by the quake - Burrell and Beaubrun said they nonetheless were able to draw on their experiences working with children in New London. "We would just put on music, and we would all dance," said Beaubrun, a human development major. "You could tell what they liked. (We made connections with the children) on the first day."
The English classes were a different challenge. Beaubrun and Burrell taught young children as well as adults and had to vary their teaching styles accordingly. But they said the students appreciated their efforts. "You could tell that we did make a change," Beaubrun said, "… because now, if you don't know how to speak English you won't get hired (in Haiti)."
Beaubrun and Burrell would love to return to Haiti and continue to help with the recovery; both said that volunteers can do more good than money. But just as important, they said, was bearing witness and sharing what they saw and heard. "We saw where they were living. We made that connection," Burrell said. "People in the United States know their story and can do something about it."
Visit CC: Online for more stories from the Winter 2010 edition of CC: Magazine.
For media inquiries, please contact:
Amy Martin (860) 439-2526, amy.martin@conncoll.edu
You might also like...