Connecticut College News
Back to Current News
Visiting artists introduce students to 'object theater'
11/19/2010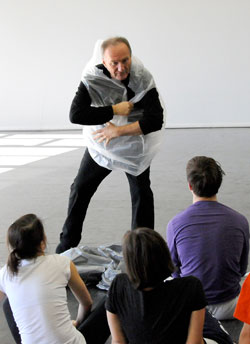 Au Cul Du Loup's Henri Ogier shows students how to make unique sounds with everyday objects.
Wayne Ong '11 moves across the large studio floor with a series of fluid movements. All the while, he makes belching noises. He's the leader; a group of students follow, imitating one aspect of his journey across the room. Some of them burp.
"The leader's movements are a proposal and set of the tone for the rest of the ensemble," Dominique Montain, vocalist and composer for the French group Au Cul Du Loup, tells the students. "The followers are not exact copies of their leader, but use elements of the leader's movements and sounds."
The exercise is part of a workshop for two modern dance technique classes. The members of Au Cul Du Loup, an "object theater" company, spent a week on campus leading a series of workshops for students in dance and other fields of study.
"It's been an unbelievably galvanizing experience," Professor David Dorfman, chair of the Dance Department, said. "Au Cul Du Loup sheds new light on so many things that we teach in the Dance Department, and has introduced us to new concepts, which are invaluable. We've all been amazed."
The ensemble was on campus as part of the Dayton Artist in Residence program, which is designed to give students the opportunity to explore a wide variety of artistic approaches and techniques with artists and performers who are not typically accessible in an academic setting.
Au Cul Du Loup definitely fits the bill. The French group, which has performed at the Edinburgh Fringe Festival, is known for mystical performances around objects that make unique sounds. In one class, students worked with the vibrations of rubber bands to understand the variations in their tones, before graduating to wooden sabers with giant bands. In another, Au Cul Du Loup's designer and sound object creator Henri Ogier donned a large plastic trash bag to show students how to make unique sounds with everyday objects.
"We generally don't focus on voice and sound in conjunction with movement," dance major Rachel Pritzlaff '13 said. "It's been a nice change of pace."
Quentin Ogier, Au Cul Du Loup's actor and composer, said the group enjoyed working with the students.
"Their energy level is consistently fantastic," he said. "They have a real commitment to the experience, even if it's strange for them."
In addition to working with students, the resident artists gave a free public performance to a packed house Nov. 10. The performance, which was improvisational in nature, was based on excerpts from the group's widely acclaimed productions.
For media inquiries, please contact:
Amy Martin (860) 439-2526, amy.martin@conncoll.edu
You might also like...