Connecticut College News
Back to Current News
Wilson wins American Antiquarian Society/NEH Fellowship
07/14/2010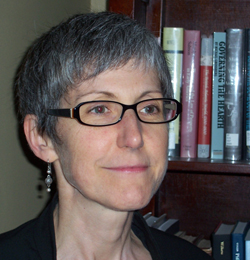 Lisa Wilson, the Charles J. MacCurdy Professor of American History at Connecticut College, has been awarded an American Antiquarian Society/ National Endowment for the Humanities Long-Term Fellowship for the 2010-2011 academic year.
Wilson will spend the year in residence at the American Antiquarian Society (AAS) in Worcester, Mass., working on her upcoming book, "Cinderella´s Family," a historical study of stepfamilies in the United States.
Hundreds of books and articles, including winners of the Pulitzer and Bancroft prizes, have stemmed from the AAS fellowship program. Fellows have the opportunity to conduct research in the unique collections of the AAS library and are encouraged to engage in collegial discussion with other fellows, AAS staff, visiting scholars and faculty from area colleges and universities.
"Discussing ideas with other scholars not only clarifies your own thinking but allows you to get the kind of critique that is essential to writing good history," Wilson said. "The Society has a separate building with rooms for scholars in residence with a shared kitchen. I hope to have some great conversations over coffee in the morning."
Wilson is also excited about the prospect of researching for her book in the AAS collections, which document the life of America´s people from the colonial era through the Civil War and Reconstruction.
"I am most interested in examining children´s literature and family papers," she said. "I would particularly like to find material from the perspective of stepchildren."
In "Cinderella´s Family," the first book-length historical study of American stepfamilies, Wilson is using stories and narratives from colonial New England to examine the roots of current notions about and prejudices against this type of family structure.
"Stepfamilies have been a common part of the American landscape since our nation´s founding," Wilson said. "I argue that ingrained and at time accepted stereotypes today actually evolved and became part of the American lexicon in the eighteenth century; they have a history."
Wilson says that while stepfamilies can be found throughout United States history, they have not been systematically analyzed.
"I want to recover the history of these families to demonstrate in part that they are not an aberration of the modern United States, but rather they have always been with us."
For media inquiries, please contact:
Deborah MacDonnell (860) 439-2504, dmacdonn@conncoll.edu
You might also like...