Connecticut College News
Back to Current News
Women´s sailing to compete at Intercollegiate Sailing Association National Championships
05/19/2010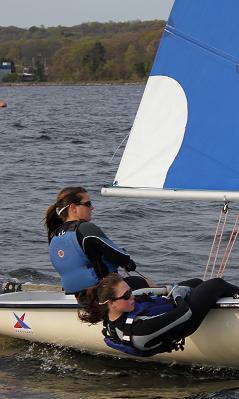 Women´s sailors Bitsy Whipple ´12 and Katrina Salk ´11 practice on Thames River.
Sailors may not be able to control the wind, but they can adjust the sails--and members of the Connecticut College women´s sailing team do just that. The team has earned a spot in the 2010 Intercollegiate Sailing Association (ICSA) National Championships May 25-28 in Madison, Wis. A fourth place finish at the New England Championship/Reed Trophy at the Edgewood Yacht Club in Cranston, R.I., on April 25 earned the team an automatic bid to the national championship weekend. On the heels of their strong finish at the New England Championships, captain Kelly Arabia ´10 and Maggie Shea ´11 were named to the 2010 All New England Women´s Team. "I´m so proud of what we´ve accomplished this year," Arabia said. "And we´re really excited as a team to make it to Nationals." The women´s sailing team is becoming something of a fixture at Nationals, having qualified 13 times in the last 17 years. "This year, the team´s first goal is to represent the College the best it can, and we hope to sail well and compete for the Championship," coach Jeff Bresnahan said. To prepare for the competition, the sailors have been working on their starts and racing against one another. "Sailing is an interesting sport, because there are both individual and team components," Arabia said. "While every single boat is trying to win, we also work together."
For media inquiries, please contact:
Deborah MacDonnell (860) 439-2504, dmacdonn@conncoll.edu
You might also like...