Connecticut College News
Back to Current News
Women's volleyball rides undefeated streak into weekend tournament
09/24/2010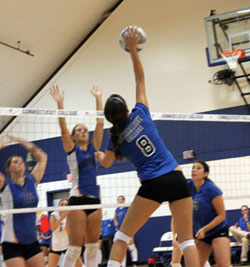 They block. They dig. They set. They kill. And so far, they haven't lost. The Connecticut College women's volleyball team is undefeated heading into the MIT Invitational this weekend. The Camels have won seven straight matches, including two against New England Small College Athletic Conference (NESCAC) opponents. In front of an estimated 400 fans - the largest attendance for a home volleyball match in recent history - the Camels won a nail-biter against Williams College in the NESCAC opener Sept. 17.
The team erased a 1-0 deficit and battled back from 11-9 and 14-13 scores in the deciding fifth game to outlast Williams 3-2. "This was a really good win for us," head coach Josh Edmed said. "Everybody has been working hard in the early stages of the season." The team began the year by taking top prize at the Johnson and Wales Invitational Sept. 10 and 11. Junior All-American Amy Newman registered a .365 hitting percentage and averaged 5.58 kills and 2.58 digs through each of the four matches, earning her the honor of tournament MVP. She was also named NESCAC Co-Player of the Week. "Amy has been outstanding in the early part of the year for us," Edmed said. "She came back to campus in great shape and has been moving forward with great work ethic every day."
The team, which has also had convincing wins against Roger Williams and Hamilton, has high expectations for a successful season.
Last year, the Camels went 22-6 and made their third appearance in the NESCAC semifinals in four years. While the season is off to a great start, "we still have a really long way to go," Edmed said. The Camels will open the MIT Invitational - traditionally one of the toughest tournaments of the season - with a 4 p.m. match today against Wellesley.
The team's next home match is Tuesday, Sept. 28, at 7 p.m. against St. Joseph's College. The Connecticut College field hockey team is also undefeated through four games. The team, led by Abby Hine '11, this week's NESCAC Player of the Week, will play at Amherst College at noon on Saturday. The next home game is against Trinity College on Saturday, Oct. 9, at noon.
For media inquiries, please contact:
Amy Martin (860) 439-2526, amy.martin@conncoll.edu
You might also like...