Connecticut College News
Back to Current News
$1 million gift endows scholarships in literature and writing
01/18/2011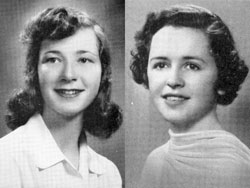 Louise Rosenstiel Frank '44 (left) and Helen O'Brien '37 in their Connecticut College yearbook photos.
With a $1 million gift in memory of alumna Helen O'Brien '37, Connecticut College has established a scholarship fund for students interested in studying literature and writing. The Sidney E. Frank Foundation has endowed the Helen O'Brien '37 Scholarship Fund at the recommendation of Peter and Cathy Frank Halstead, in honor of Peter Halstead's mother, a 1937 Connecticut College graduate.
In 2008, the foundation established the Louise Rosenstiel Frank Scholarship Fund in honor of Cathy Frank Halstead's mother, a 1944 Connecticut College graduate. "We are honored to be able to create a scholarship in the name of Peter's mother, who was such a warm and wonderful mother, pianist and writer," the Halsteads said. "It is our hope that the values that anchored her life, and which have transformed ours, will provide future students at CC with the opportunity to attain the wisdom and tolerance which a liberal arts education weaves together in response to the instabilities of a dehumanized world."
While a student at Connecticut College, O'Brien completed a psychological study of herself, which she titled, 'Me.' She was known for playing Chopin on the piano at home, and accompanied the glee club at the College. "She always knew when Peter, who also became a pianist, hit a wrong note," the Halsteads said.
The endowed scholarship fund will provide $50,000 in financial aid annually to students with demonstrated need with a preference for those who will study literature, writing or both. The scholarship funds will be available beginning with members of the Class of 2015.
"We are so grateful to the Halsteads, who continue to give generously to honor two wonderful alumnae - their mothers," Connecticut College President Leo I. Higdon Jr. said. "Connecticut College is committed to providing students with access to a world class liberal arts education, and we are able to do so thanks to the support of generous donors like the Halsteads and the Sidney E. Frank Foundation."
Sidney E. Frank, founder of Sidney Frank Importing Co., and Louise Rosenstiel Frank were well-known philanthropists who supported education and other significant missions. Today, the Sidney E. Frank Foundation continues their important work. Cathy Frank Halstead, a member of the Connecticut College class of 1969, is chair and president of Sidney Frank Importing Co., in New Rochelle, N.Y., and trustee of the Sidney E. Frank Foundation.
For media inquiries, please contact:
Deborah MacDonnell (860) 439-2504, dmacdonn@conncoll.edu
You might also like...