Connecticut College News
Back to Current News
$100,000 grant to support scholarships for Science Leaders
10/20/2011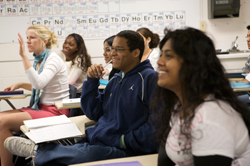 The Lloyd G. Balfour Foundation, Bank of America Trustee, N.A., has awarded Connecticut College a $100,000 grant to provide scholarships for students in the College's Science Leaders Program. The Balfour Foundation, established in 1973, supports programs at New England schools and colleges that address college readiness, access and success for underserved populations.
The Science Leaders Program was created by Connecticut College in 2007 to increase the number of women and minority students graduating with degrees and research experience in the sciences. The program fosters a passion for science through close faculty mentoring, hands-on research and internship opportunities. Students also receive career preparation and counseling and complete an intensive first-year seminar with other Science Leaders.
In addition to campus activities, students and faculty involved in the program work to increase interest in science among high school students by team-teaching at partnership high schools, presenting at science summer camps and volunteering through new and existing community outreach programs at local schools.
For media inquiries, please contact:
Deborah MacDonnell (860) 439-2504, dmacdonn@conncoll.edu
You might also like...