Connecticut College News
Back to Current News
15 seniors earn College's highest academic honor
12/16/2011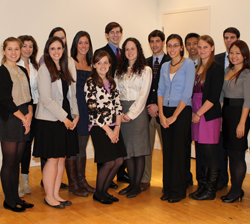 The 2011-2012 Winthrop Scholars. Photo by Elena Waters '14.
Fifteen Connecticut College seniors have been named Winthrop Scholars, the highest academic honor bestowed by the college. The scholars were recognized at a ceremony Dec. 8. All have also been chosen for membership in Phi Beta Kappa, the national honor society of undergraduate higher education, and will be initiated officially in May.
"I am very proud of each one of these students; they have all demonstrated an exceptional depth of scholarship," Connecticut College President Leo I. Higdon Jr. said. "They are leaders on campus who take advantage of all that Connecticut College has to offer. They are an inspiration to us all."
The 2011-2012 Winthrop Scholars are:
- Caroline Hemeon Abbott, a psychology major from Barnstable, Mass.
- Savitri Elizabeth Arvey, an international relations major from Upper Nyack, N.Y.
- Michael Patrick Eugene Dooley, an international relations major from Rye, N.Y.
- Jason Eric Fishman, a history major from Sharon, Mass.
- Morgan Benner Griffin, a dance major from Trumbull, Conn.
- Erin Marie Iannotti, an economics and psychology double major from North Kingstown, R.I.
- Ajjen Das Joshi, an architectural studies and computer science double major from Kathmandu, Nepal
- Lauren Valerie Manning, a behavioral neuroscience major from Glenmont, N.Y.
- Lisette Corinne Roman, a French and psychology double major from Bethany, Conn.
- Charlotte Madeleine Rosen, a dance and psychology double major from Montclair, N.J.
- Katherine Phyllis Shabb, an international relations major from Baabda, Lebanon
- Amy Caitlin Smith, an ACS-certified chemistry and dance double major from Wilmington, Del.
- Shuang Song, a biochemistry, cellular and molecular biology major from Boston, Mass.
- Daniel Halpern Wernick, an economics and government double major from Longmeadow, Mass.
- Carolyn Michaela Wesnousky, a history and Italian studies double major from Davis, Calif.
Parents, friends, faculty and staff attended the Dec. 8 recognition ceremony, which included remarks by Abigail Van Slyck, associate dean of the faculty and Dayton Professor of Art History, and Leo Garofalo, associate professor of history.
For media inquiries, please contact:
Amy Martin (860) 439-2526, amy.martin@conncoll.edu
You might also like...