Connecticut College News
Back to Current News
180 students honored for academic excellence
05/26/2011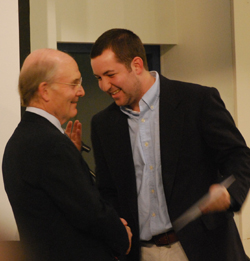 President Leo I. Higdon Jr. presents senior Nathan Cornell with the Lucy C. McDannel '22 Prize at the April 27 Honors and Awards Ceremony.
Connecticut College honored 180 students for excellence in everything from biochemistry to dance April 27 during a festive ceremony in the College Center at Crozier-Williams.
Faculty, parents, staff and friends cheered as students stepped forward to receive citations and prizes. President Leo I. Higdon Jr., Dean of the Faculty Roger Brooks and Dean of the College Armando Bengochea took part.
It was a night for honoring not only students, but the many professors, alumni and friends of Connecticut College for whom awards have been established. The awards range from the Paul Fell Biological Research Award, named for a beloved professor of biology, to the Elizabeth Y. Durante '10 Memorial Award for Public Service, which honors a student who was killed in 2009 while on her way to a humanitarian mission in Africa.
The keynote speaker for the evening was Timo V. Ovaska, the Hans and Ella McCollum '21 Vahlteich Professor of Chemistry. He earned the honor by winning the College's Nancy Batson Nisbet Rash Faculty Research Award in 2010.
Ovaska described his research synthesizing compounds that show promise in fighting HIV and other diseases, and said his progress would not be possible without the contributions of the students who have worked with him.
"I am deeply indebted to them," Ovaska said. He said teaching and research is one unified activity where the concepts learned in the classroom are reinforced and taken to a completely new level in the lab.
"I think that's what makes being involved in active research so exciting. It's contagious and students quickly become part of it," Ovaska said. "What starts out as a typical teacher-student relationship usually progresses to a stage where I regard my students more like my co-workers who share a common goal and very often I learn from them just as they learn from me."
- By Barbara Nagy
For media inquiries, please contact:
Amy Martin (860) 439-2526, amy.martin@conncoll.edu
You might also like...