Connecticut College News
Back to Current News
2011 graduate awarded Connecticut College's 5th Fulbright this year
06/20/2011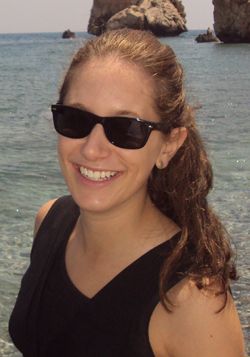 Kristen Tamburro '11
Kristen Tamburro, a 2011 Connecticut College graduate, has been awarded a Fulbright English Teaching Assistantship to Malaysia. Tamburro's recent award brings the number of Fulbrights at Connecticut College this year to five. Fulbright fellows receive round-trip transportation to the host country, a living stipend, research allowances and medical insurance. Connecticut College is consistently recognized as a top producer of Fulbright fellows, with 23 winners in the last five years. Tamburro will teach English at a high school in one of three provinces in Eastern peninsular Malaysia.
At Connecticut College, she majored in government and was a scholar in the Holleran Center for Community Action and Public Policy. She also studied abroad in Vietnam through the College's Study Away, Teach Away (SATA) program, an experience she says sparked her interest in international work. "I decided to apply for the Fulbright English Teaching Assistantship because of the transformative effect of my SATA Vietnam study abroad experience," Tamburro said. "The Fulbright will provide me with an opportunity to go abroad and give me a chance to give back to a local community." Following her Fulbright fellowship, Tamburro plans to attend graduate school for public policy or law.
Connecticut College's four other this year were 2010 graduate Phoebe Bakanas, 2009 graduate Larson Hogstrom and 2011 graduates Matea Ilic and Michael Scharf. Bakanas and Hogstrom were both awarded Fulbright Research Awards, while Ilic and Scharf were awarded Fulbright English Teaching Assistantships.
Phoebe Bakanas, Fulbright Research Award, United Kingdom
Bakanas will spend the year researching gesture tracking technology in music at the University of Leeds. Working with Kia Ng, director of the Interdisciplinary Centre for Scientific Research in Music at the university, Bakanas will use existing motion tracking setups to capture and model arm movements to identify beat positions and recognize patterns in the motions.
"I may create a system that tracks the beat of a conductor's baton and compares it to the beat of the orchestra, for example," Bakanas said. "Measuring the difference between the two beat positions can help determine how synchronized the orchestra and conductor are and how many beats good conductors stay ahead." Bakanas, who has spent the last year working as an implementation specialist for a library management and document delivery company, was a computer science and music and technology double major at Connecticut College. She discovered her passion for music technology research while completing a senior integrative project as a scholar in Connecticut College's Ammerman Center for Arts and Technology.
"The small class sizes at Connecticut College allowed me to work closely with my professors. With their encouragement, I was able to find a very specific area of study that I am enthusiastic about," she said. During her Fulbright fellowship, Bakanas hopes to earn a Master of Science by Research from the University of Leed's School of Computing. She is considering a career in academia or a future in the music technology business.
Larson Hogstrom, Fulbright Research Award, Norway
Hogstrom will be conducting research in the lab of Cognitive Psychology Professor Anders Fjell at the University of Oslo, examining brain structure changes. "I've proposed a project to use MRI to study how white matter structure changes with age in older adults," Hogstrom said. "I am interested in this because both Norway and the U.S. are facing population shifts. As time goes on, our societies will be represented by increased proportions of older adults and with this demographic shift will come increased incidences of age-related cognitive decline." A biochemistry, cellular and molecular biology major at Connecticut College, Hogstrom has spent the last two years working with Professor Michele Diaz at the Duke University Brain Image and Analysis Center.
He says the Fulbright fellowship will allow him to continue to gain experience in his field, while also giving him the opportunity to learn about a new culture. "At Connecticut College and other institutions, I've been able to study with people from all around the world," he said. "Because science transcends culture in many ways, I think it is a great way to connect with others." Hogstrom hopes to attend medical school and continue to pursue research following his Fulbright fellowship.
Matea Ilic, Fulbright English Teaching Assistantship, Serbia
Ilic, a double major in sociology and biological sciences with a concentration in cell and molecular biology, will be teaching English in a university setting, likely in Belgrade, Serbia. She hopes to start a mentorship program that will match minority students in Serbia's middle and high schools with students at the university level. Originally from Bosnia and Herzegovina, Ilic has a special interest in the region and hopes to learn more about higher education in the country.
"I have learned many things about Serbia and its people, but I have never been there," she said. "Connecticut College has opened my eyes to different people and opinions, and it is with this open mind that I approach my experience in Serbia." Ilic plans to attend graduate school to pursue either public health or humanitarian law following her Fulbright fellowship.
Michael Scharf, Fulbright English Teaching Assistantship, Germany
Scharf, a philosophy and German studies double major, will be teaching English in a middle or high school in Saxony, Germany. He plans to use music to facilitate his teaching and may start an extracurricular program with a musical approach to language learning. "I think education is very important, especially if it promotes cross-cultural empathy and awareness," Scharf said.
"I also have a love of music and believe that it is essential for students to learn something that will facilitate alternate ways of thinking."
- By Amy Martin
For media inquiries, please contact:
Amy Martin (860) 439-2526, amy.martin@conncoll.edu
You might also like...