Connecticut College News
Back to Current News
A call for proposals for the Centennial's 'Big Event'
03/22/2011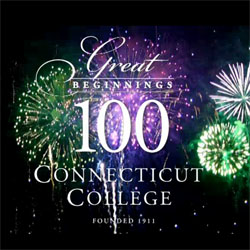 The Connecticut College Centennial Committee is looking for proposals from faculty, staff, students and alumni for a major Centennial production in Palmer Auditorium during the 2011 Fall Weekend. The deadline to submit proposals is April 15. The working title for the Oct. 22 event is Great Beginnings, a Centennial celebration of Connecticut College ideas. The format will be loosely modeled after the popular TED conferences in which a series of short, inspirational talks are presented in a public forum and broadcast free via the Internet.
"This will be the big culminating event of our year-long Centennial celebration," said Patricia Carey, co-chair of the Centennial Committee. "Our goal is to showcase the vitality, history, diversity and impact of Connecticut College in a format that's never been used on campus before." The 90-minute event will feature a series of presentations, each between three and 10 minutes long, and each highlighting a different aspect of Connecticut College and the Centennial theme of "Great Beginnings." The presentations are intended to be high-energy and inspirational; creative audio-visual and performance elements are encouraged. Proposals may be e-mailed to centennial@conncoll.edu or submitted using the online form.
The selection process will be competitive and based on the following criteria:
- To highlight as many significant aspects of the Connecticut College experience as possible,
- To represent key College constituencies, - To honor the college's history, while also looking forward, and
- To provide a well-produced and engaging audience experience.
The event will be webcast in real time to accommodate overflow audience and remote viewers. After the event, individual presentations will be shared through YouTube, the website and other College communications. If your proposal is accepted, you will be notified in May. Presenters will be asked to submit their text and production requirements by Aug. 1 and complete any requested revisions over the summer. Rehearsals will be held on campus in September and then on Oct. 20-21. If it is not feasible for you to be on campus for the September rehearsals, you will be expected to rehearse your segment on your own in advance of the weekend.
For media inquiries, please contact:
Amy Martin (860) 439-2526, amy.martin@conncoll.edu
You might also like...