Connecticut College News
Back to Current News
Academy Award-winning documentary 'Inside Job' to screen at Connecticut College
04/14/2011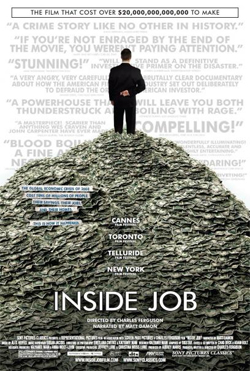 The Film Studies Program and Department of Economics have teamed up for "Make Million$ During an Economic Crisis!" The program will include a screening and discussion of "Inside Job," the 2011 Academy Award-winning documentary directed by Charles Ferguson, on Friday, April 15, at 1:15 p.m. in Evans Hall, Cummings Arts Center.
Ferguson conducted extensive research and interviews with financial insiders, politicians and journalists across the globe to document the story behind the economic crisis of 2008, a meltdown with a price tag of more than $20 trillion. The New York Times called the documentary "meticulous and infuriating."
"A collaboration of film studies and economics for the screening of 'Inside Job' is the type of interdisciplinary work and collaboration that sets us apart," said Maria Cruz-Saco, professor of economics. "Not only will we analyze technical and aesthetic film production aspects, but actual historical facts in the making of the 2008 financial crisis." After the screening, "Make Million$ During an Economic Crisis!" will continue with a Q&A hosted by Cruz-Saco and a reception in Cummings Art Galleries.
For media inquiries, please contact:
Amy Martin (860) 439-2526, amy.martin@conncoll.edu
You might also like...