Connecticut College News
Back to Current News
Admission dean and financial aid director share advice on New York Times blog
02/1/2011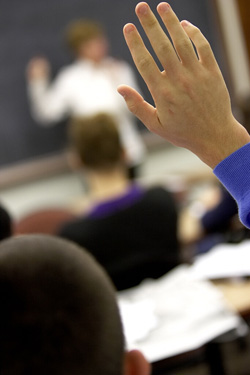 In a New York Times blog post today, Martha C. Merrill '84, Connecticut College's dean of admission and financial aid, and Elaine Solinga, director of financial aid, share their tips for applying for financial aid. "Financial aid is essential for some students, and a good aid package can play a large part in the final decision for many more," they write. "The process can seem daunting and confusing for students and parents alike, but the payoff can be huge." Each year, Connecticut College awards more than $27 million in financial aid. The average grant award - money that doesn't have to be pay back - is about $29,700, and 45 percent of Connecticut College students receive financial aid. Merrill and Solinga said colleges ask lots of questions during the financial aid application process to ensure their scholarship dollars are distributed as fairly as possible.
They offer a host of tips for tackling the paperwork. "Be accurate," they advise in The Choice. "When it comes to filling out the necessary paperwork, don't guess!" They also encourage students and parents to work together. "It's a team effort. For the parent who wants to be more involved in the college process, here is your chance! Much of the required paperwork relates to your income and assets. Be prepared to help your student every step of the way," they write. The piece is Merrill's fourth in the blog's "Tip Sheet" series, which features short posts by admission officers, guidance counselors and others who can help applicants and their families better understand aspects of the admission process.
Her previous posts include an Oct. 10 post with tips for securing a strong teacher recommendation, a January 2010 piece with advice for parents about navigating the later stages of the admission process and a June 2009 piece with advice for writing the perfect college essay.
For media inquiries, please contact:
Deborah MacDonnell (860) 439-2504, dmacdonn@conncoll.edu
You might also like...