Connecticut College News
Back to Current News
Alumni judge lets student interns into N.J. legal world
08/12/2011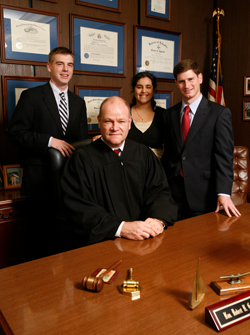 Pictured from left: Tom Giblin '10, the Honorable Robert H. Gardner '82, Aditi Juneja '12 and Steve Strauss '07.
Thanks to an alumni connection and Connecticut College's funded internship program, rising senior Aditi Juneja is getting an insider's view of the legal world. Juneja, an economics major from Princeton, N.J., is an intern in the office of the Honorable Robert H. Gardner '82, presiding judge over the Superior Court of New Jersey's criminal division. She is considering a career in law and will use the experience to help her decide whether to apply to law school after she graduates in May.
"I felt it would be good for me to be in the judge's chambers, where I'd have the chance to interact with prosecutors and public defenders and watch trials and see the inner workings," she said. "A lot of this stuff looks glamorous from the outside, but inside it can be kind of boring, so I wanted to see what it was like." Gardner says his interns, several of whom have been from Connecticut College, quickly find that the popular perception of the legal world is very different from what really goes on in American courthouses.
"Very few people actually do trial work," said Gardner, who was sworn in to the Superior Court bench in 2008. "Lawyers do a lot of transactional work and advising people on business deals, et cetera. We don't get involved until the case goes south and people have to sue each other. But most of the legal world does not take place in a courtroom, and that's what we try to explain to them." Gardner, who majored in government at Connecticut College, contacted the Office of Career Enhancing Life Skills (CELS) in 2007 to offer internships to Connecticut College students from New Jersey. "Since they're going to school out of state, it's kind of hard to break into the legal world," Gardner said. "I thought it would be good to help expose them to what we do here in the law." Also interning with Gardner this summer is Tom Giblin '10, who is currently a student at Boston College Law School.
Steve Strauss '07 works for the judge as a law clerk. Juneja said the College's $3,000 funded internship stipend, available to all students who complete the CELS program, allowed her to choose an internship option that fit her professional aspirations. So far it has paid off. Juneja's daily duties include preparing sentencing documents, discussing sentencing terms and rules with Gardner, observing courtroom proceedings, research and legal writing. "I feel after spending time here that the law is something that I really enjoy," Juneja said. "At this point, it's something worth pursuing." - By Chase Hoffberger '07
For media inquiries, please contact:
Amy Martin (860) 439-2526, amy.martin@conncoll.edu
You might also like...