Connecticut College News
Back to Current News
Art exhibit examines sustainability
11/21/2011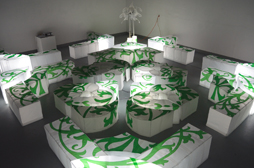 An exhibit on display at Connecticut College is the culminating event of a semester-long multidisciplinary program that merged sustainability and the arts. In "Academy of Uncommon Gardens," sculptor Lynn Richardson, an assistant professor of sculpture at Keene State College, explores environmental sustainability by drawing connections between preservation seeds, the changing polar regions and colonialism.
In a statement, Richardson wrote, "My recent work is elliptical and the expression of the subject is quieter. I am aware that the conflict between industrial and natural environment needs to enter the process forming my aesthetic."
The exhibit, and other events that were part of the program, were made possible by grants from the Sherman Fairchild Foundation. "The support from the Sherman Fairchild Foundation enables us to enrich our academic community through its focus on interdisciplinary collaboration and provides us with the ability to bring significant artists and scholars to campus," said Robert Richter, director of arts programming at the College and co-director of the Sherman Fairchild program. "Academy of Uncommon Gardens," will be on display in Gallery 66 and the Manwaring Gallery in Cummings Arts Center through Friday, Dec. 9.
Click here for gallery hours.
For media inquiries, please contact:
Amy Martin (860) 439-2526, amy.martin@conncoll.edu
You might also like...