Camels Place Sixth at NESCAC Championship Leduc Recovers from Early Fall to Finish Seventh for Camels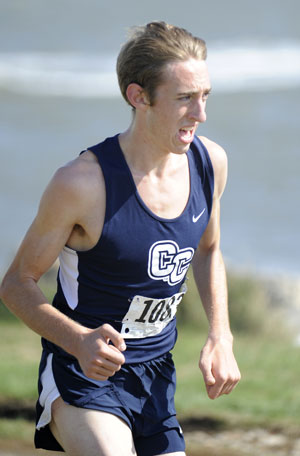 AMHERST, Mass.--Mike LeDuc (Canton, Conn.) placed seventh with a time of 26:25 on the 8k course at the 2011 NESCAC Cross Country Championship hosted by Amherst College Saturday to lead the Connecticut College men's cross country team to a sixth place finish in the 11 team field.
Results
It was a miraculous recovery for LeDuc, who slipped and fell at the 200 meter mark but was able to recover in resilient fashion for the Camels. LeDuc placed fifth at the 2010 NESCAC Championship and will be named to the First Team of the All-Conference squad for the second consecutive year when it is formally announced next week. Connecticut College head men's cross country coach Jim Butler's squad scored 165 points at the Championship, moving up one spot from their seventh place finish in 2010. Williams College secured its 13th NESCAC Men's Cross Country Crown with a winning score of 49 points. The Ephs placed six of their runners among the top 15. Behind Williams were Bates and Bowdoin, who both tied for second with 79 points. Middlebury was fourth with 94 points. Middlebury College senior Michael Schmidt captured the individual championship with a time of 25:51. Alex Mavrovic (Thetford Mines, Que.) stepped up in a major way for the Camels, posting a time of 26:52 to finish in 29th place as the second fastest freshman in the field. Tim Murtagh (Rowley, Mass.) finished 32nd in the field with an impressive time of 26:57. Senior Doug Wright (Darien, Conn.) was 42nd overall with a time of 27:09. Andrew Duarte (Rocky Hill, Conn.) posted a time of 27:55 in 72nd place. Patrick Dermody (Erieville, N.Y.) posted a time of 28:25 in 83rd place. Senior Colin Gallant (Ashford, Conn.) was the seventh Camel and 91st finisher in the field with a time of 28:34.
---
October 29, 2011