Connecticut College News
Back to Current News
Authors to discuss new book on global poverty
04/19/2011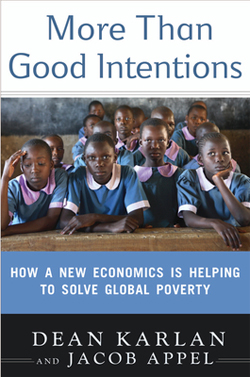 The Department of Economics has invited Dean Karlan and Jacob Appel to Connecticut College on April 20 to discuss their research and sign copies of their new book, "More than Good Intentions: How a New Economics is Helping to Solve Global Poverty." Dean Karlan is a professor of economics at Yale University and a research fellow of the M.I.T. Jameel Poverty Action Lab. He is also president of Innovations for Poverty Action (IPA).
Jacob Appel works with IPA and spent two years as a field researcher in Ghana, West Africa. Working together they examine behavioral economics using worldwide field research conducted in villages across Africa, India, South America and the Philippines. Their work shows how small changes in banking, insurance, health care and other development initiatives can drastically improve the well-being of poor people everywhere. "Dean Karlan's scholarly work belongs to the emerging field of behavioral economics that has expanded from the study of decision-making in developed economies to emerging and developing countries," said Maria Cruz-Saco, professor of economics at Connecticut College.
"In this book, Karlan and Appel present field work and randomized control trials that were conducted in different countries and that seek to anticipate and assess how poor people decide on issues related to income-generating activities, seeking health services and education." The talk, which is free and open to the public, is Wednesday, April 20, at 4:30 p.m. in Room 014 of F.W. Olin Science Center. It will be followed immediately by a book-signing. Copies of the book are available at the Connecticut College Bookshop.
For media inquiries, please contact:
Amy Martin (860) 439-2526, amy.martin@conncoll.edu
You might also like...