Connecticut College News
Back to Current News
Bloomberg Businessweek chronicles cyber sting operation orchestrated by Alex Lanstein '07
09/21/2011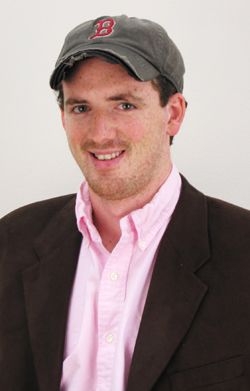 Alex Lanstein '07
Alex Lanstein '07 played a key role in shutting down one of the world's most prolific spammers this spring. The March 2011 sting operation was chronicled by Bloomberg Businessweek in a feature story that put Lanstein, a computer science major at Connecticut College, front and center.
Lanstein is a security engineer at FireEye, a Silicon Valley company that provides malware protection for corporations and governments. In March, FireEye partnered with Microsoft and Pfizer to take down Rustock, a botnet that at its peak generated more than 40 percent of spam on the Web. The 26-year-old, who joined FireEye after graduation, has spoken on cybercrime issues at venues around the world, including U.S. Department of Defense conferences and at Interpol headquarters in Lyon, France.
In the past, Lanstein has credited Connecticut College's small, rigorous computer science department and his "top-notch" professors and mentors for his success. He mastered programming and server skills working for John Schaeffer, the College's manager of network systems. "From the beginning, John allowed me to play a big role in the College network," Lanstein said in a Spring 2010 CC: Magazine article.
During his senior year, Lanstein presented with Schaeffer at a conference, where he caught the eye of FireEye representatives. Schaeffer recalls, "The FireEye people at the presentation were so impressed with Alex that they snatched up his contact info, called their president in Silicon Valley and landed Alex an interview."
For media inquiries, please contact:
Deborah MacDonnell (860) 439-2504, dmacdonn@conncoll.edu
You might also like...