Connecticut College News
Back to Current News
Centennial Song Contest winners announced
02/16/2011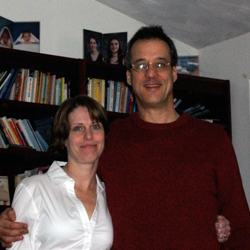 Centennial Song Contest winners Ann and Richard Schenk
Connecticut College has a new song for a new century. On Feb. 15, the chairs of the Centennial Committee announced that Richard Schenk, a musician and composer in the dance department, and Ann Livingston Schenk M'01, a former instructor in the dance department, have won the Centennial Song Contest. "We were truly impressed with the songwriting ability of the entire Connecticut College community, having received entries from students, faculty, staff and alumni," Centennial Committee Chairs Midge Thomas, Leah Lowe and Patricia Carey wrote in an email to campus.
"All of the entries would have made wonderful new songs for Connecticut College, but the Committee was especially impressed with the Schenks' singable lyrics and catchy tune." All students, alumni and current and former faculty and staff members were invited to write original music and lyrics for a new song that will be performed at celebrations throughout the year and into the future. As winners, the Schenks will receive a $1,500 grand prize. "It's a thrill and an honor," Richard Schenk said of winning the contest. "We worked long and hard on the song, and I look forward to hearing it sung in a community setting." The new song will debut at the College's Centennial Founders Day celebration on April 5. Founders Day marks the anniversary of the day the College was officially chartered in 1911. Richard Schenk has served as a musician and composer at Connecticut College for more than 15 years, providing music for dance classes and concerts.
He also teaches as an adjunct assistant professor. His wife Ann earned her master's degree in education at the College in 2001, and now works as an instructor at the Regional Multicultural Magnet School in New London. Richard Schenk said he and his wife co-wrote the lyrics for Connecticut College's new song, and he composed the music. "I've been a lifelong songwriter," Richard Schenk said. "I really love taking text and setting it to music. When it works, it is just the greatest thing." While this is the first song the Schenks have written together, the couple has previously collaborated on a number of projects, including dances and a documentary about the teaching of the emeritus professor Martha Myers, who founded Connecticut College's historic Department of Dance.
For media inquiries, please contact:
Amy Martin (860) 439-2526, amy.martin@conncoll.edu
You might also like...