Connecticut College News
Back to Current News
Class of 1981 raises $540,000 to support funded internship program
11/16/2011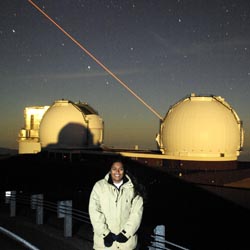 Christina Balkaran '12 completed a funded internship at the Keck Observatories in Hawaii.
One student helped the Keck Observatories collect data from a neighboring galaxy and realized astronomy is her passion. Another honed her communication skills at MTV Networks. A third delved into the art auction industry at Christie's. The three are among 32 seniors whose transformative internships last summer were made possible by the Class of 1981.
Dozens more will follow over the next four summers. The class raised $540,000 in commitments through the Annual Fund as a gift to the College in honor of its 30th reunion in 2011.
The support is designated for funded internships which are coordinated through the College's career office, better known as CELS (an acronym for Career Enhancing Life Skills). Participating employers last summer ranged from the New Jersey Superior Court and Mystic Aquarium to the Naval Submarine Medical Research Lab and Marie Claire magazine.
"Previously, we had helped fund the reconstruction of a classroom. It was a wonderful project," said Rusty Spears '81, a member of the Class of 1981 reunion planning committee. "This year we wanted to do something that would impact students' futures in a more personal way."
Once members of the class had decided on the project, they began to spread the words through letters, emails and phone calls, as well as through Facebook and other social media. "CELS is a signature program, unique in many ways to Connecticut College," said Vicky McKittrick Oliva '81 P'10. Oliva has first-hand knowledge of how important the program is; her daughter, Tory Oliva, a 2010 Connecticut College graduate, completed a CELS internship during her junior year.
"From a parent's perspective, I was so pleased to see how prepared my daughter was to take her Connecticut College education and apply it to the 'real' world," she said. "Almost immediately after graduation, she was offered a full-time position with a New York City brokerage firm. I saw how confident she was and I feel that's directly related to the experience she gained during her internship."
CELS has earned the College a top ranking for career services and job placement programs with the Princeton Review. The structured four-year program helps students identify strengths and interests, plan coursework and activities, apply for a junior-year internship, explore career options and make post-baccalaureate plans. All students have the opportunity to participate in the program and complete the funded internship, and nearly 80 percent of students do.
In the summer of 2011, a total of 357 rising seniors completed a funded internship. "The program provides students with meaningful opportunities to deepen, apply and test the skills and knowledge of the liberal arts in the world of work," said Deborah Dreher, director of CELS. "The Class of 1981's support helps further the College's commitment to preparing students for a lifetime of meaningful intellectual endeavors."
For media inquiries, please contact:
Amy Martin (860) 439-2526, amy.martin@conncoll.edu
You might also like...