Connecticut College News
Back to Current News
College observes anniversary of Sept. 11 attacks
09/7/2011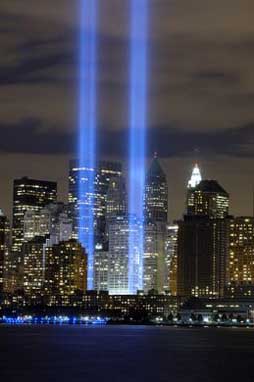 To commemorate the 10th anniversary of the terrorist attacks on Sept. 11, 2001, the College will host several events designed for reflection and understanding. "As members of a learning community, we will reflect together on the impact of this national tragedy, the devastating loss of lives and our own roles in building a global community of cultural respect and understanding," said President Leo I. Higdon, Jr. "We also will remember those in our community who died or lost family or friends on that day."
On Friday, Sept. 9, members of the College community can attend "9/11: A Decade of Remembrance," a Common Hour with a diverse panel including a first responder, a community caregiver, an institutional administrator and a Muslim student. Panelists are John Bitters, a counselor in the College's counseling office; Ulysses Hammond, vice president for administration; Majda Khiam '12; and Lt. Commander Royce James of the U.S. Coast Guard. Each has a unique point of view about the events of that day and the effects they had on a wide range of issues in the 10 years that followed. This event is sponsored by the Office of Religious and Spiritual Life (ORSL), the Office of Volunteers for Community Service (OVCS) and Unity House.
"As a part of our learning and understanding what it means to live in a global context, we hope to reflect on what lessons we have learned from the events of Sept. 11, 2011," said Claudia Highbaugh, dean of religious and spiritual life. "In the comfort of the College learning environment, we are taking time to listen, reflect, remember and move forward with tools for understanding and living with our differences and building good relationships as we seek to understand diversity." The Common Hour will take place at 11:50 a.m. in Room 201 of Blaustein Humanities Center and is open to the campus community.
Another campus community event is "9/11: A Conversation with Professor Alex Hybel ," a presentation by the Residential Education Fellows (REF ) Program, which provides opportunities for professors and students to meet outside the classroom. Hybel, the Susan Eckert Lynch '62 Professor of Government, will lead a discussion with students about the events of Sept. 11 and their impact on the world, on Sunday, Sept. 11, at 7:30 p.m. in the Windham Common Room. The public is invited to visit Harkness Chapel on Sunday, Sept. 11, from 8:30 to 11:30 a.m. for a program of meditation and prayer. During the event, the chapel bell will ring to commemorate the exact time of each of the four plane crashes on Sept. 11, 2001. This event is sponsored by ORSL, OVCS and Unity House.
In addition, the College invites members of the community to the 9/11 Garden on campus for quiet reflection. It is located just off Tempel Green between Bill Hall and Fanning Hall.
For media inquiries, please contact:
Deborah MacDonnell (860) 439-2504, dmacdonn@conncoll.edu
You might also like...