Connecticut College News
Back to Current News
Connecticut College caught up in RecycleMania
02/25/2011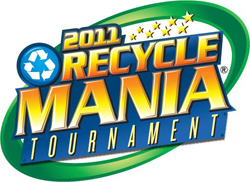 Connecticut College is participating for the sixth year in a row in RecycleMania, a recycling competition that promotes waste reduction at colleges and universities across the country.
This year's field of 630 competing schools is the largest since RecycleMania started in 2001. Each week of the competition, which runs from Feb. 6 to April 2, colleges and universities report recycling and trash data to be ranked in the various categories, including recyclables per capita, total recyclables, least amount of trash per capita and highest recycling rate.
Connecticut College is always a major contender in the event, placing 20th out of 346 schools in the per capita classic of the 2010 competition, as well as finishing fourth overall and first in New England Small College Athletic Conference (NESCAC) in the Targeted Material - Bottles and Cans category.
Three weeks into this year's competition, Connecticut College is ranked No. 19 in the per capita classic, with 3.99 cumulative pounds per person collected. "We're viewed as a recycling leader both for our years of active involvement and our consistent ranking in the top 10 or 25 schools," said Amy Cabaniss, campus environmental coordinator.
"I hope we'll make this year's competition our best showing yet, with the staff, faculty and students working to keep recyclable materials out of the trash. The College has made that easier since we've gone to single-stream recycling, which allows us to collect paper, cardboard, glass, plastic, aluminum and tin cans all in one bin. "Connecticut College already has an outstanding recycling culture," Cabaniss continued, "which it is enhanced during RecycleMania and, we hope, throughout the remainder of the year."
For media inquiries, please contact:
Amy Martin (860) 439-2526, amy.martin@conncoll.edu
You might also like...