Connecticut College News
Back to Current News
Connecticut College celebrates 100 years on Founders Day
04/6/2011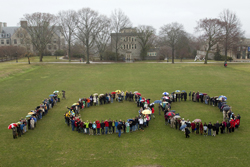 A little rain was no match for the Connecticut College spirit on Founders Day, the 100th anniversary of the signing of the Connecticut College charter. Despite Tuesday's dreary cold and drizzle - which quickly became a downpour - the chapel bell rang 100 times as students, faculty, staff and alumni gathered on Tempel Green for a picture in the shape of the number "100." See the Founders Day slideshow. (PC Users: Click "show info" in the top right corner to view the captions.) "It's an exciting day for Connecticut College," President Leo I. Higdon Jr. said at the Founders Day Tea and 100th Birthday Party, which featured the premier of the new Centennial Song and a comical interpretation of the College's founding story by the student improv group N2O. "I truly believe that if our founders could be here today and see all that this college has accomplished in 100 years - and the positive future we have ahead - they would be just as proud as I am right now."
The Centennial Founders Day celebration also included a special dinner in Harris and a performance by alumni band Shake the Baron. In a keynote lecture, Linda Eisenmann '75, provost and professor of education and history at Wheaton College, spoke about the College's founding within the wider context of higher education at the time. "Women who sought college, especially in the decades before 1910, were often quite serious scholars who recognized the unusual opportunity they had been given," she said.
"But before 1900, there were few respectable options other than teaching for females to earn a living outside their homes." Connecticut College, she said, was founded during a time when more women were demanding a college education and many existing colleges and universities were severely limiting - or in the case of Wesleyan University, outright eliminating - admission for women. Eisenmann, whose sons graduated from Connecticut College in 2003 and 2007, said that as a historian of education, she has come to realize just how important the college has been to her own story.
"Conn isn't just any other school I might study; it's the place where my own scholarly inclinations were nurtured and my intellectual perspectives developed," she said. "In fact, I realized much later that I became a historian of women's education because Conn, and the gift of its scholarship - both intellectual and financial, I might add - completely changed my life's course." Connie Gemmer '80, chair of the Alumni Association Board of Directors, also addressed the crowd at the Tea and Birthday Party. "As an alumna of the College, I couldn't be more proud of this institution," she said.
For media inquiries, please contact:
Deborah MacDonnell (860) 439-2504, dmacdonn@conncoll.edu
You might also like...