Connecticut College News
Back to Current News
Connecticut College earns spot on Peace Corps top colleges ranking
02/7/2011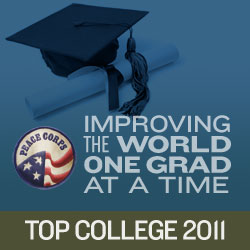 With 18 alumni currently serving, Connecticut College ranks No. 13 on the Peace Corps' annual list of top volunteer-producing small colleges and universities. The college's mission of educating global citizens and emphasis on community service has inspired 211 Connecticut College alumni to volunteer for the Peace Corps since its founding in 1961.
"Connecticut College students graduate with a strong sense of community and a deep appreciation for the world's many cultures. As Connecticut College celebrates its Centennial and the Peace Corps celebrates its 50th anniversary, I am struck by the ways in which our two missions complement each other," said Connecticut College President Leo I. Higdon Jr., who served as a Peace Corps volunteer in the late 1960s.
Alissa Wantman '07, who is currently serving in Gore, Ethiopia, said she was attracted to the Peace Corps for its mission of sustainable development. "We don't simply pour money into poverty-stricken communities," she said. "We take our time - 27 months to be exact - and thoroughly assess community needs before undertaking any projects." Wantman, who has been in Ethiopia since October of 2009, has focused her efforts on developing small business opportunities for single mothers and orphans, including a poultry farming project and a local Internet café. She also has found time to host life skills training workshops for youth, spearhead voluntary HIV/AIDS testing campaigns in rural areas, lead a summer camp for girls and teach English at a local high school.
"Most of my work in Ethiopia has been focused on designing, building and managing small business activities. I've had to lean heavily on the fundamental business, finance and management skills I learned as an economics major at CC," Wantman said. She added that her study abroad experience during the college's Study Away Teach Away (SATA) semester in Vietnam also helped prepare her for the Peace Corps. "I already knew what it was like to be the minority in a country with a virtually homogenous population - I knew what it was like to be constantly stared at, to lose one's anonymity," she said. "The rigorous language classes that I went through in SATA Vietnam also helped prepare me mentally for being fully immersed in a foreign language."
While many volunteers chose to serve soon after graduation, Lanna Semel '05, who served in the Federated States of Micronesia from 2005-2007, said she encourages others to join regardless of age. "A lot of people I have talked to about my experience have told me that they once thought about joining, but never did. My only advice is to do it - any time is the right time to join," she said. "Their motto is correct; it was the toughest job I've ever loved. I not only felt like I was making a difference helping others, but the personal growth I experienced was like nothing I ever imagined."
Higdon, who joined the Peace Corps with his wife, Ann, after completing his bachelor's degree in 1968, often discusses his experience teaching in Malawi, Africa, with current students and encourages them to consider serving, either in the Peace Corps or through other service organizations.
Lori Schippers '08, who spent the last two years teaching math in a middle school in Namibia, will share her Peace Corps experience with the campus community Friday, Feb. 18, at 1 p.m. in the Blaustein Humanities Center Faculty Lounge.
Also visiting campus is Michael Buckler, who left his law firm to become a Peace Corps volunteer in rural Malawi. He will give a talk, "From Microsoft to Malawi: Learning on the Front Lines as a Peace Corps Volunteer," Friday, April 15, at 3 p.m. in Blaustein Humanities Center Room 210.
Both talks are free and open to the public.
For media inquiries, please contact:
Amy Martin (860) 439-2526, amy.martin@conncoll.edu
You might also like...