Connecticut College News
Back to Current News
Connecticut College earns spot on President's Community Service Honor Roll
06/30/2011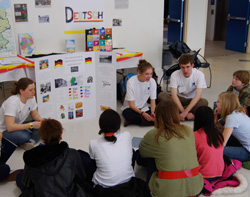 Language students volunteered to teach local middle school students about foreign cultures during a day-long International Children's Expo this spring.
Connecticut College has again earned a spot on the President's Higher Education Community Service Honor Roll in recognition of extraordinary volunteer efforts by the college and its students. The honor roll, compiled yearly by the Corporation for National and Community Service, recognizes colleges and universities nationwide that support innovative and effective community service and service-learning programs. This is the third time Connecticut College has earned a spot on the list since it was first published in 2006.
"This honor recognizes Connecticut College's commitment to civic responsibility," President Leo I. Higdon Jr. said. "Community involvement and service learning enhance academic excellence and prepare students to be citizens in our global society." Each year, more than 600 Connecticut College students intern, work, study and volunteer in local schools, agencies and other non-profits. Tracee Reiser, director of Connecticut College's Office of Volunteers for Community Service, said dedicated students, staff and faculty work together to identify serious community challenges and institute creative solutions.
"Our students help critically important local organizations to extend their reach into the community," Reiser said. "And as much as I know our students give, it is matched or exceeded by what they receive in return. New London schools and organizations are truly our partners in educating students to be active and responsible citizens." Students often describe their volunteer and service learning projects as transformative. "Working with second graders at Winthrop, a local elementary school, was one of the most rewarding experiences I've had at Conn," said Laura Chrisinger '13, a psychology major from Weathersfield, Vt.
"I worked with them on their reading, played, and mostly just listened." The Corporation for National and Community Service is a federal agency that improves lives, strengthens communities and fosters civic engagement through service and volunteering. The Corporation oversees the Honor Roll in collaboration with the U.S. Departments of Education and Housing and Urban Development, Campus Compact and the American Council on Education. Honorees are chosen based on a series of selection factors, including the scope and innovation of service projects, the extent to which service-learning is embedded in the curriculum, the school's commitment to long-term campus-community partnerships and measurable community outcomes as a result of the service. - By Amy Martin
For media inquiries, please contact:
Amy Martin (860) 439-2526, amy.martin@conncoll.edu
You might also like...