Connecticut College News
Back to Current News
Connecticut College kicks off Centennial celebration
01/24/2011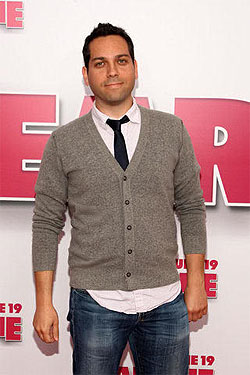 Lee Eisenberg '99
With students back on campus after Winter Break, Connecticut College is kicking off its Centennial celebration with a weekend full of exciting events. The first of several Centennial teas is Thursday, Jan. 27, from 4 to 5:30 p.m. in the Common Room at the Katharine Blunt residence hall. Emily Webb '11 was instrumental in organizing the event after she heard an alumna discussing the long tradition of teas at the College. "In the Centennial year of the College, I feel it is important to not only begin new traditions, but also to revisit old ones," said Webb, who added that she learned about the traditional teas when W. Estella Johnson '75 spoke about them in her 2010 Convocation address. "I was inspired by her description and felt that the tea would bring the campus community together to embark on our Centennial year," Webb said.
Webb and President Leo I. Higdon Jr. will both speak at the tea, and the new Centennial video will be shown. On Friday, Jan. 28, Lee Eisenberg '99, writer and co-executive producer of the Emmy-winning TV show "The Office," will be the inaugural speaker for "Great Beginnings: Conversations with Alumni," a series created to commemorate the Centennial and celebrate alumni achievement. Eisenberg is a fast-rising star in the entertainment industry, having written scripts for several television shows and feature films. He'll share his experiences at 8:15 p.m. in Evans Hall at the Cummings Art Center.
The following day, a Centennial photo show opens at the Provenance Center in downtown New London. It's sponsored by LINCC (Linking New London and the Connecticut College Communities), a group made up of students, faculty, staff and local residents committed to strengthening the relationship between the College and New London. The show runs through March 1. For more information, contact the Provenance Center at 860-405-5887. And it's a great weekend to stop by the Charles E. Shain Library to take in another Centennial exhibit: "Creating a New Library: The First Books at Connecticut College."
The library's origins are fascinating, as is the exhibit, which runs through March 18. "It's an exciting time to be connected to Connecticut College, and this weekend's events are just the first of many Centennial activities designed to highlight the college's history, strengths, achievements and community," said Leah Lowe, associate professor and chair of the Department of Theater and co-chair of the Centennial Committee.
For media inquiries, please contact:
Amy Martin (860) 439-2526, amy.martin@conncoll.edu
You might also like...