Connecticut College News
Back to Current News
Connecticut College's Centennial Class to graduate May 22
05/16/2011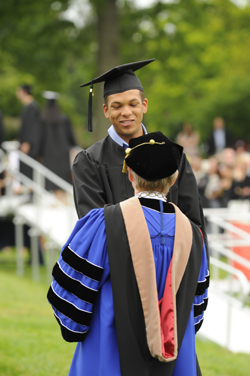 Nearly 460 Connecticut College students will receive their diplomas at Connecticut College's 93rd Commencement on Sunday, May 22. The class of 2011 has been dubbed the Centennial Class, as they graduate during the yearlong celebration of the College's founding in 1911. Their family members, friends and professors - together with alumni - will form an audience of about 4,500 on the College's Jean C. Tempel '65 Green for the 11 a.m. ceremony. The processional begins promptly at 10:35 a.m.; guests are asked to arrive by 10 a.m. In the event of significant rain, the ceremony will take place in Palmer Auditorium.
Alumna Cynthia Enloe, research professor of international development, community and environment at Clark University, will give the keynote address. A member of the Connecticut College Class of 1960, Enloe is the author of 12 books that offer a feminist analysis of the complex connections between military culture, armed conflict, globalization and economic development. In her talk, she will demonstrate what it means to be connected to the larger world, using as examples the founding of Connecticut College and the tragedy of the Triangle Shirtwaist factory fire two weeks earlier. Said Enloe, "I've been so impressed by that awareness of local and global connectedness and the resultant sense of responsibility with which Connecticut College has imbued its students over these first 100 years. So it is fitting that memorials to the Triangle garment workers and celebrations of this College's Centennial should converge in 2011."
President Leo I. Higdon Jr. and graduating senior Charles Lincoln Wesley of Spokane, Wash., will also speak to the graduates and their guests. Among other Commencement traditions long enjoyed by the College community are a laurel chain, through which the procession marches, and saplings presented to the graduates, which serve as a representation of their continuing connection to the College. A new tradition begins this year at the environmentally conscious College: the graduates will wear recycled caps and gowns. The regalia is made of material fashioned from 100% recycled post-consumer materials Following the ceremony, the new graduates and their guests are invited to a luncheon on the Library Green.
For media inquiries, please contact:
Deborah MacDonnell (860) 439-2504, dmacdonn@conncoll.edu
You might also like...