Connecticut College News
Back to Current News
Dance Department Concert, Dec. 9 and 10
12/7/2011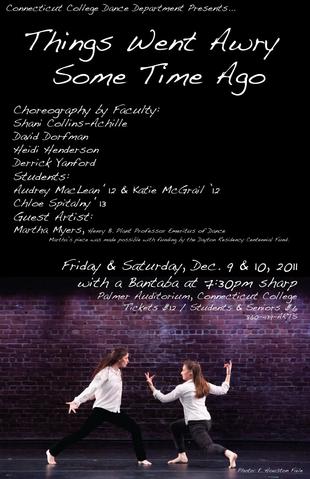 The Connecticut College Dance Department will present its fall concert, "Things Went Awry Some Time Ago," on Dec. 9 and 10 at 7:30 p.m. in Palmer Auditorium.
More than 50 students will perform in works choreographed by dance department faculty members Shani Collins-Achille, David Dorfman, Heidi Henderson and Derrick Yanford. The show also features a work choreographed by renowned guest artist Martha Myers, the Henry B. Plant Emeritus Professor of Dance, and students Audrey MacLean '12, Katie McGrail '12 and Chloe Spitalny '13, whose choreography will be performed in February at the 2012 American College Dance Festival Association's New England Region Conference.
The pieces are accompanied by a wide variety of music and other audio, including the works of Phillip Glass, Franz Schubert, Wyclef Jean, Patti Smith, Lionel Hampton, Elton John, Nora Roberts and David Sedaris.
"Things Went Awry Some Time Ago" was made possible with funding by the Dayton Artist-in-Residence Program and is dedicated to the late Cyan Maroney '08. Tickets are $12 for general admission and $6 for students and seniors.
For tickets and information, call 860-439-ARTS (2787).
For media inquiries, please contact:
Deborah MacDonnell (860) 439-2504, dmacdonn@conncoll.edu
You might also like...