Connecticut College News
Back to Current News
Dean Martha Merrill shares 'admission timeline' tips with the Associated Press
07/14/2011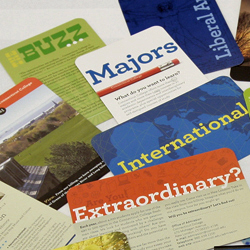 In a new Associated Press story, Dean Martha Merrill suggests high school juniors request more information from the top schools on their lists.
For those high school students wondering if sophomore year is too early to visit college campuses or when to begin asking for recommendation letters, Martha Merrill '84, Connecticut College's dean of admission and financial aid, has a few tips. Merrill is quoted in a July 12 Associated Press news article that breaks down the college admission "to-do" list by year, to make the process "less of a mad dash and more of a marathon."
In the article, which has already been published by nearly two dozen news outlets (including CNBC, Newsday, MSN Money and CBS MoneyWatch), Merrill suggests students begin their college essays in the summer before senior year.
"With the pressure of looming application deadlines still months away, students have the freedom to play around with different ideas, test different angles and solicit feedback from friends and family," she said. She also encourages high school sophomores to explore the types of schools that interest them, without getting too specific too early. Juniors, she said, should request information from the schools on their lists and begin to dig deep into department Web pages.
Tips from other admission deans and counselors include enrolling in challenging courses and building a strong resume of extracurricular activities as early as freshman year, meeting with guidance counselors and learning about different types of financial aid in junior year and making a calendar of application deadlines during senior year.
For media inquiries, please contact:
Amy Martin (860) 439-2526, amy.martin@conncoll.edu
You might also like...