Connecticut College News
Back to Current News
Erika Tang '13 studies stressed-out rats for clues on human OCD
07/25/2011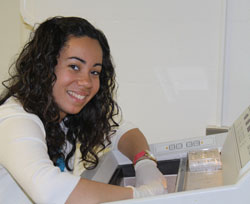 Erika Tang '13 works with samples from rats involved in the OCD study she is conducting with Professor Ruth Grahn.
While many college students think an ideal summer involves soaking up rays at the beach, Erika Tang '13 is spending her summer doing something she finds much more enjoyable: working with stressed-out rats.
Tang, a Behavioral Neuroscience major, is working with Professor Ruth Grahn researching the impact of stress on anxiety and memory. Their research, supported by the Keck Undergraduate Science Program, uses rat behavior to examine the role of serotonin in anxiety related diseases like obsessive-compulsive disorder (OCD).
"In humans, stress can trigger the onset of OCD symptoms or can worsen them significantly," Tang said. "By studying environmental triggers and situations of stress in rats, we can gain insight into OCD in humans and the effectiveness of combining cognitive behavioral therapy and pharmacotherapy to manage obsessive behaviors."
In one rat trial, for example, Grahn places the rats in a maze with a dish of chocolate milk on each of the two ends.
"Normally, rats that have a choice between two equally-baited arms of a maze will alternate from one arm to the other, perhaps to maximize their chance to get the reward," Grahn explained. In previous studies, Grahn has found that when a rat is injected with a drug mimicking the effect of serotonin, the rat will return to the same milk dish, which is an animal model of obsessive behavior.
This summer, Grahn and Tang will conduct tests to see if these effects are reproduced when the rats live in a stressful environment - a small, basic cage without recreational objects.
Tang is a part of Connecticut College's Science Leaders program, a National Science Foundation-funded program designed to increase the number of women and minority students graduating with a degree and research experience in the sciences. Part of the program is encouraging close faculty-student relationships and hands-on research. "Being able to work with Professor Grahn on a one-on-one basis and being able to learn from her on such an intimate level is unique for undergraduate research," Tang said. "She has helped to spark in me a real love for the subject we are studying." - By Tom Owen
For media inquiries, please contact:
Amy Martin (860) 439-2526, amy.martin@conncoll.edu
You might also like...