Connecticut College News
Back to Current News
Experts to discuss smart growth at Connecticut College March 4-5
02/28/2011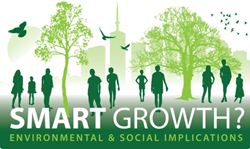 Experts from around the country will gather at Connecticut College to discuss the environmental and social implications of smart growth at a two-day conference March 4-5. The conference will place a special emphasis on the role of environmental thinking in the greater smart growth movement, which encompasses a series of concepts developed from urban planning roots that have come to represent an alternative to sprawl.
"Sprawl and traditional approaches to urban and suburban planning devalue the environment and community, with great environmental, social and economic impacts for our generation and future generations of Americans," said Doug Thompson, the Karla Heurich Harrison '28 Faculty Director of the Goodwin-Niering Center for the Environment at Connecticut College. "The smart growth movement considers these long-term impacts to encourage sustainable development practices." The conference, co-sponsored by Connecticut College's Goodwin-Niering Center for the Environment and the Nature Conservancy, will include lectures and discussions on the history of sprawl, barriers to smart growth and the key elements of sustainable development, including mixed land uses, walkable neighborhoods, preserved open spaces and improved public transportation.
Anthony Flint, a fellow and director of public affairs at the Lincoln Institute of Land Policy in Cambridge, Mass., will give a keynote address, "Evolving from Sprawl: The Way Forward," Friday, March 4, at 7:30 p.m. in the Blaustein Humanities Center Ernst Common Room. The talk is free and open to the public. Also open to the public at no cost is a pre-conference lecture, "From Famine and Froot Loops to Food Democracy: Turning Crisis into Liberating Action," by Frances Moore Lappé, author and co-founder of the Small Planet Institute in Cambridge, Mass. The talk is Thursday, March 3, at 4:30 p.m. in the Blaustein Humanities Center Ernst Common Room.
Both public talks are sponsored by the Jean Thomas Lambert Environmental Lecture Fund. Conference registration, which includes refreshments and breakfast and lunch on Saturday, is $60 per person and $25 for students. For a full schedule of speakers or to register, visit the Smart Growth Conference website.
For media inquiries, please contact:
Amy Martin (860) 439-2526, amy.martin@conncoll.edu
You might also like...