Connecticut College News
Back to Current News
Film Studies department to screen student works
12/15/2011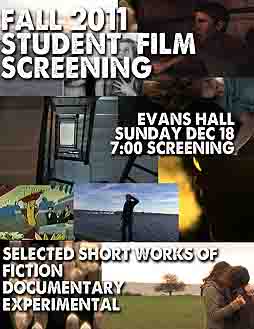 Could the next Spielberg or Kurosawa be a student at Connecticut College? Find out on Sunday, Dec. 18, when the Department of Film Studies hosts a screening of student films at 7 p.m. in Evans Hall, Cummings Arts Center.
The films to be shown comprise a variety of genres, including fiction, documentary and experimental, and all will be screened in high definition.
"We've got an incredible group of students who have created highly engaging and thought-provoking work," said Ross Morin, assistant professor of film studies. "They've embraced film in the context of the liberal arts and the film studies faculty is very pleased to showcase their work at this screening."
The student film screening is free and open to the public.
For media inquiries, please contact:
Deborah MacDonnell (860) 439-2504, dmacdonn@conncoll.edu
You might also like...