Connecticut College News
Back to Current News
John Lewis Gaddis to speak at Connecticut College
09/23/2011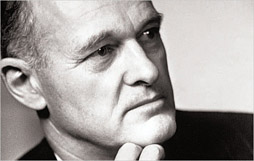 George F. Kennan
Faculty in the departments of classics and government worked together to create a new course titled "Grand Strategy, Ancient and Modern" that debuted this semester. To celebrate its inauguration, they have invited noted author and historian John Lewis Gaddis to speak on campus Sept. 29. Gaddis, the Robert A. Lovett Professor of Military and Naval History at Yale University, will deliver a lecture titled "George F. Kennan and American Grand Strategy," which corresponds with his forthcoming book about the famed American diplomat and historian, "George F. Kennan: An American Life."
Kennan wrote two pieces that proved to be very influential on U.S. foreign policy: his "long telegram" from Moscow in 1946 and "The Sources of Soviet Conduct," an article published the following year under the pseudonym X. He is widely considered the father of containment, the American stance on the Soviet Union during the Cold War. Gaddis is Kennan's biographer, one of the country's foremost Cold War scholars and a recipient of a National Humanities Medal.
For almost 30 years, he conducted extensive interviews with Kennan and had exclusive access to the diplomat's archives. In the resulting book, according to its publisher, "An eminent scholar of the Cold War delivers a revelatory biography of its troubled mastermind." Gaddis co-teaches a grand strategy program that was the inspiration for the new course at Connecticut College, according to Eric Adler '95, the assistant professor of classics who designed the course with John Coats, professor of government. "The College will be the first liberal arts college in the country to offer such a course," said Adler.
"Our version of the grand strategy course focuses on the works of great writers from antiquity and modernity, which can tell us much about how civilizations wax and wane, and how states advance their interests. The class's topic is intentionally broad: John and I see it as a counterpoise to the narrower and more focused courses often offered at colleges these days. And it should allow students to learn more about the rise and fall of states and civilizations. "Because his program was the driving force behind the creation of ours," he continued, "we're very pleased that Professor Gaddis will be here as we introduce the College's new grand strategy course."
Gaddis' lecture is at 4:30p.m. on Thursday, Sept. 29, in Room 210 of the Blaustein Humanities Center. The event is free and open to the public.
For media inquiries, please contact:
Amy Martin (860) 439-2526, amy.martin@conncoll.edu
You might also like...