Connecticut College News
Back to Current News
Meet Rusty, the Steel House
11/17/2011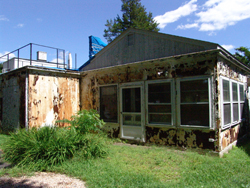 Connecticut College's steel house, 'Rusty,' before the restoration.
The College's historic steel house, affectionately known as 'Rusty,' is getting a complete makeover.
Manufactured by Chicago-based General Houses Inc., the prefabricated house was erected in 1933 for Winslow Ames, the founding director of New London's Lyman Allyn Art Museum. The property was used as faculty housing after the College acquired it in 1949; it was last occupied in 2004.
Now the house is being completely restored thanks to grants from the Connecticut Department of Economic and Community Development (DECD), the Dr. Scholl Foundation, a family foundation and the Connecticut Trust for Historic Preservation, as well as a planned gift.
Crews from the conservation company Milner + Carr spent several weeks on campus this fall carefully dismantling the structure and transporting it to Philadelphia, where each piece will be cleaned and restored.

Rusty has found his voice thanks to Alison Thomson, a junior architectural studies major. She chronicled the process on http://rustythesteelhouse.blogspot.com and on Facebook. When the entire process, which includes treating the steel panels to make them rust-resistant, is complete this spring, the house will be reassembled on its foundation at 130 Mohegan Avenue.
And while Rusty got little attention for many years, the little steel house is finally enjoying some time in the spotlight. In September, an Associated Press story about the ongoing restoration was published by nearly 200 news outlets, including Newsday, Forbes, Huffington Post, CBS News, CNBC, Minneapolis Star Tribune, Miami Herald, San Francisco Chronicle, Charlotte Observer, Las Vegas Sun, Houston Chronicle, Atlanta Journal Constitution, Seattle Times and Anchorage Daily News.
When the restoration is complete, the steel house will be used as a hub for Connecticut College's sustainability efforts and for student-centered activities related to the environment. In conjunction with the renovation of the house, President Leo I. Higdon Jr. has announced a new fund that will provide small grants to students to pursue innovative ideas for improved environmental sustainability on campus.
- Alison Thomson '13 contributed to this article
For media inquiries, please contact:
Amy Martin (860) 439-2526, amy.martin@conncoll.edu
You might also like...