Connecticut College News
Back to Current News
National electro-acoustic music conference presents original composition by Jonathan Markson '12
01/28/2011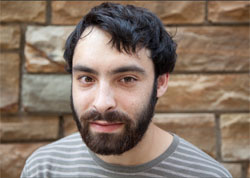 Jonathan Markson '12
Music, Jonathan Markson '12 admits, is his life. A junior, Markson is a music and technology major with a minor in computer science and a scholar in Connecticut College's Ammerman Center for Arts and Technology. He plays in a rock group, "Shake the Baron," with three recent Connecticut College alumni, and produces music in an alternative hip-hop group, "Time Crisis," with Will Brown '11 and several other students. "In and out of academics, I dedicate about 95 percent of my time to the study and practice of music," Markson said. So when he learned that his electro-acoustic composition "Off the Ground" had been selected from more than 500 submissions for presentation at the 2011 conference of the Society for Electro-Acoustic Music in the United States (SEAMUS), Markson couldn't help himself.
"I spent the rest of the day subtly sneaking it into conversations with my peers," he recalls. Last week, Markson traveled to the University of Miami in Coral Gables, Florida, to attend the 26th annual SEAMUS conference with Arthur Kreiger, the Sylvia Pasternack Marx Professor of Music at Connecticut College, and Peter Jarvis, adjunct assistant professor of music and director of the College's New Music Ensemble. "I've been studying electro-acoustic composition with Professor Kreiger since the moment I stepped foot on campus," Markson said. "He opened the floodgates that allowed me to build my musical understanding and compose in new ways."
Kreiger said presenting a piece at the SEAMUS conference is a huge achievement for an undergraduate student. "For composers working in the electro-acoustic music medium, the SEAMUS conference offers an interesting array of concerts, screenings, installations and technical papers," he said. Kreiger also had a piece presented at the conference. His work, "Strike Zone," scored for drum set and electronic sound, was performed live at the conference by Jarvis. The experience was inspiring for Markson, who hopes to make a career of writing, performing, recording and producing music. "The sheer amount of concerts and paper talks was almost overwhelming," Markson said. "It was great to hear such a wide variety of electro-acoustic music." He added, "It didn't hurt that it was almost 80 degrees the whole time!"
For media inquiries, please contact:
Amy Martin (860) 439-2526, amy.martin@conncoll.edu
You might also like...