Connecticut College News
Back to Current News
New faculty bring broad range of expertise
09/6/2011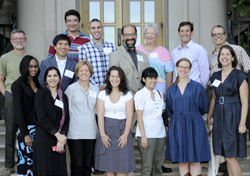 New tenure, tenure-track and visiting faculty at Connecticut College
Seven new tenure and tenure-track faculty members, including two Connecticut College alumni, have joined the Connecticut College faculty this fall. They are joined by a number of new visiting professors.
"These talented individuals represent diverse fields of interest and bring a wealth of new knowledge to the College," Dean of the Faculty Roger Brooks said. "At a time when many colleges have frozen or significantly limited hiring, Connecticut College is proud to welcome seven new members to one of the finest liberal arts faculties in the world."
The new tenure and tenure-track faculty members are:
Monika Lopez Anuarbe, Assistant Professor of Economics: Anuarbe received a B.A. and M.A. in economics from the University of Costa Rica and her Ph.D. from the University of Connecticut. She has been a visiting assistant professor in economics at the College since Fall 2010 and a visiting instructor here since 2006.
Sheetal M. Chhabria, Instructor in History: Chhabria received her B.A. in philosophy from Loyola University, an M.A. in South Asia regional studies from the University of Pennsylvania and an M.A. in history and master of philosophy from Columbia University, where she is pursuing a Ph.D. Her fields of research include South Asian history, world history and globalization, urban studies, political economy, gender and postcolonialism.
Terry-Ann L. Craigie, the Lenore Tingle Howard Assistant Professor of Economics: Craigie earned a B.A. in economics at Richard Stockton College of New Jersey and an M.A. and Ph.D. in economics from Michigan State University. She was previously a postdoctoral research associate at Princeton University in the Center for Research on Child Wellbeing.
David B. Jaffe '77, Associate Professor of Theater: Jaffe earned his B.A. in theater studies at Connecticut College, then attended the National Theater Institute at the Eugene O'Neill Theater Center and the Actors Theater of Louisville Apprentice Company before earning his M.F.A. in acting at Yale University School of Drama. He was most recently the Frank B. Weeks Visiting Professor of Theater at Wesleyan University.
Ross Morin '05, Assistant Professor of Theater (Film Studies): Morin received his B.A. in film studies from Connecticut College and his M.F.A. in film and video production from Ohio University. He was most recently assistant professor in the TV/Film program at DeSales University.
Karen Gonzalez Rice, the Sue and Eugene Mercy Assistant Professor of Art History: Gonzalez Rice received a B.A. in art history and M.A. in American studies from University of Texas at Austin before earning her Ph.D. in art history and visual studies at Duke University. Her research explores Christianity and traumatic experience in contemporary American performance art.
Mark Seto, Assistant Professor of Music: Seto earned his B.A. in music from Yale University and is a Ph.D. candidate in historical musicology at Columbia University. Most recently, he was an instructor of masterpieces of Western music at Columbia.
For media inquiries, please contact:
Amy Martin (860) 439-2526, amy.martin@conncoll.edu
You might also like...