Connecticut College News
Back to Current News
New Science Center will be 'topped out' Wednesday
11/17/2011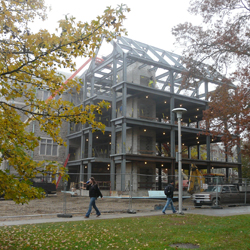 Connecticut College will celebrate the progress on its new Science Center Wednesday, Nov. 16, with a traditional "topping out" ceremony - complete with the hoisting of an evergreen to the highest point on the steel structure.
The four-foot tree is being harvested from the Connecticut College Arboretum by botany students. The new $25 million Science Center at New London Hall will be home to their department, along with biology and computer science, when it opens in the fall of 2012.
President Leo I. Higdon Jr. and Dean of the Faculty Roger Brooks will speak before the tree is lifted to the peak of the structure.
The topping-out tradition goes back a thousand years and has its roots in Scandinavia. Some cultural historians believe it began as a way of honoring the materials that "gave their life" to create a new building.
The 4 p.m. ceremony will be followed by a presentation on the construction of the Science Center - especially the building's sustainable features - in Olin 014. The "green" features include a geothermal system that will use the earth's energy to heat and cool the building.
Students, faculty and staff will also have an opportunity to sign one of the steel beams for the building after the ceremony. The beam will help support the area that connects New London Hall to the new greenhouse.
The building and greenhouse are being fully renovated from top to bottom with leadership Campaign gifts from foundations, alumni and parents. An addition on the east side of the building will increase space for research and teaching by 28 percent - to 21,100 square feet.
For media inquiries, please contact:
Amy Martin (860) 439-2526, amy.martin@conncoll.edu
You might also like...